Loading page
The LG FH6 Freestyler is a floor-standing, all-in-one stereo speaker system — it's basically a modern day boombox. But it's modern in more than just its looks — it can hook up three phones simultaneously over Bluetooth, it can supercharge your TV sound, and it's one hell of a karaoke machine. Here are six things that you can try to turn the all-in-one system into a speaker that's equally good at movies or music.
---
Sure, you can buy small, portable, battery-powered Bluetooth speakers that you can take with you wherever you go. In a pinch, they'll do a decent job for a small house party. But if you want to do things right, you want a big Bluetooth speaker. One that can draw enough power to dim the lights in your neighbourhood every time the bass kicks in. LG's FH6 X-Boom Freestyler — yes, that's its name — is a floor-standing speaker or horizontal boombox with a ridiculously large amount of audio power, and a bunch of LED lights on the front that you can set to flicker on and off in any colour you desire.
---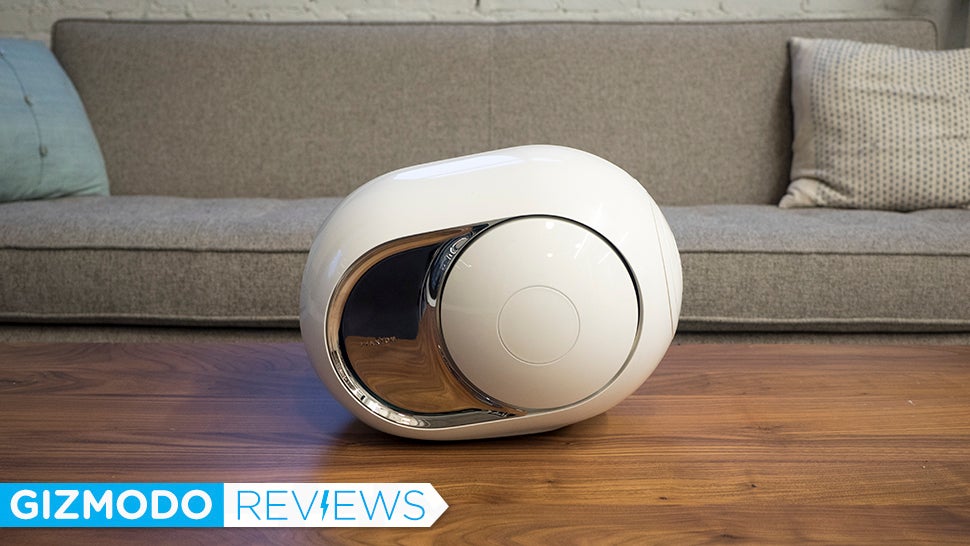 The Devialet Phantom's been around a while, but the Apple Store in the US has recently started selling the basic-but-still-very-expensive version of the speaker. Fans will be tempted, but you never want to buy something just because it's in the Apple Store, so we gave it a try. Everything about the speaker seems impressive. It's wireless, incredibly powerful, yet compact, and it plays bass so low you can only feel it — all while looking like an H.R. Giger creation. It also costs $3000.
---
If you want music playing in every room of your house, there's only one easy way to do it: buy a bunch of wireless audio speakers. Samsung is really stepping up its wireless audio game, and the new R1, R3 and R5 speakers are the first salvo in what is set to be a big war against Sonos, as well as other wi-fi speaker competitors like LG and Sony.
---
Your smartphone or tablet is a gateway to tens of millions of music tracks, of audio playlists and podcasts and internet radio stations. The only problem is that your smartphone's speaker is not great — and that's where wireless sound systems come into their own. And sure, you can hook up a Bluetooth speaker for a temporary high, but if you're listening at home then you can do a lot, lot better. Sonos's new Play:5 speaker is about the size of a regular bookshelf speaker — the kind that you'd have paired up next to your TV, for a small home theatre setup — but it packs so much more power.
---
---
Back in 2013, we were blessed with the launch of the UE Boom — a small, portable, waterproof speaker that sounded great for its size and had enough battery life to last a full day at the beach. But that was two years ago, and since then we've had the UE Roll and the Megaboom — a smaller speaker and a larger one. Since then, we've been waiting for a new Boom. The second incarnation of one of the best Bluetooth-toting portable speakers we've ever used is here, and it's better in every single way.
---
We really, really like the Sonos Play:5 — it's incredibly easy to set up and use, and gives you smartphone- or tablet-friendly access to dozens of different streaming music and internet radio services. And now it's even better, optimised for stereo listening and with a wider soundrange, clearer treble and more powerful bass. And that's not the only announcement; Sonos has a new top-of-the-line wireless speaker to show off, but some fancy new software tricks that can make it sound even better.
---
I loved, and continue to love, the UE Boom. It's a great little speaker — water-resistant, surprisingly powerful, just the right size, versatile Bluetooth. After a couple of years, Logitech and Ultimate Ears have a new one — it's (unsurprisingly) called the UE Boom 2, it's more powerful, more waterproof, with new controls, and new software.
---
If you have a gaming PC or home-office machine that lives on a workdesk or in a study, it makes sense to invest in a good pair of speakers. But on my desk, I also have two smartphones, an iPad, and a constantly revolving suite of wireless devices. It makes more sense, then, to invest in a good set of speakers that also have Bluetooth. Edifier's Luna Eclipse speakers, new to Australia, are made for everyday PC usage but are equally at home playing back your favourite tunes wirelessly.
---
Loading page