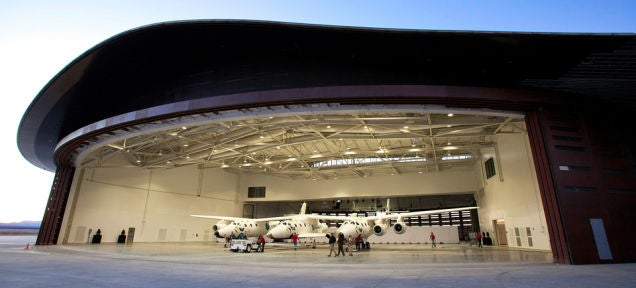 ---
We've known about DARPA's plan to build a reusable, unmanned space plane for quite some time, but the agency just announced the companies that will help. Unsurprisingly, two feature famous billionaires who love space.
---
The UK may have a spaceport within four years — and it will probably be in the northern reaches of Scotland. The plan to have a UK spaceport up and running by 2018 is expected to be announced by the government's science minister this week, with six potential sites — four of which are in rural Scotland, where it won't matter so much if spaceplanes crash back to earth — on the shortlist.
---
Google is apparently in talks to buy up part of Virgin Galactic, but not to take a leisure cruise: Sky News claims that it will buy "crucial access to satellite-launch technology" to help put its new low-Earth orbiters into the sky.
---
Back in 2012, I saw a sign outside of a travel agency in Western Australia that filled my cold, black heart with glee. It was an ad for Virgin Galactic, with the implied promise that if I stepped inside that door, I could buy a flight to space from an "accredited space agent." I knew there was no way I could afford it, but just seeing that sign made me feel — however briefly — like I was living in the future. For those of us living here in the second decade of the 21st century, commercial space travel still usually feels like it's light years away.
---
"I'm interested in man's march into the unknown, but to vomit in space is not my idea of a good time. Neither is a fiery crash with the vomit hovering over me." — Star Trek legend William Shatner in 2006 when offered the future opportunity to ride Virgin Galactic
---
A new report about Virgin Galactic has taken a look at the small print in the customer contract that Virgin Galactic will give to those who choose to fly in the most ridiculous commercial aircraft ever — and it seems that they can't promise you'll make it into space.
---
If you're one of the 700 or so people who bought tickets to fly to outer space on Richard Branson's Virgin Galactic rockets, don't pack your space bags just yet: Smithsonian notes that the company doesn't have the Federal Aviation Administration permit required to take passengers to space.
---
SpaceShipTwo just finished its third rocket-powered test and reached the highest altitude its ever been at 21,640m by hitting a maximum velocity of Mach 1.4. You can see the new reflective coating on the rocket plane's tail booms which perfectly reflects the flame and our Earth. Lovely. Cant wait to book my ticket!
---