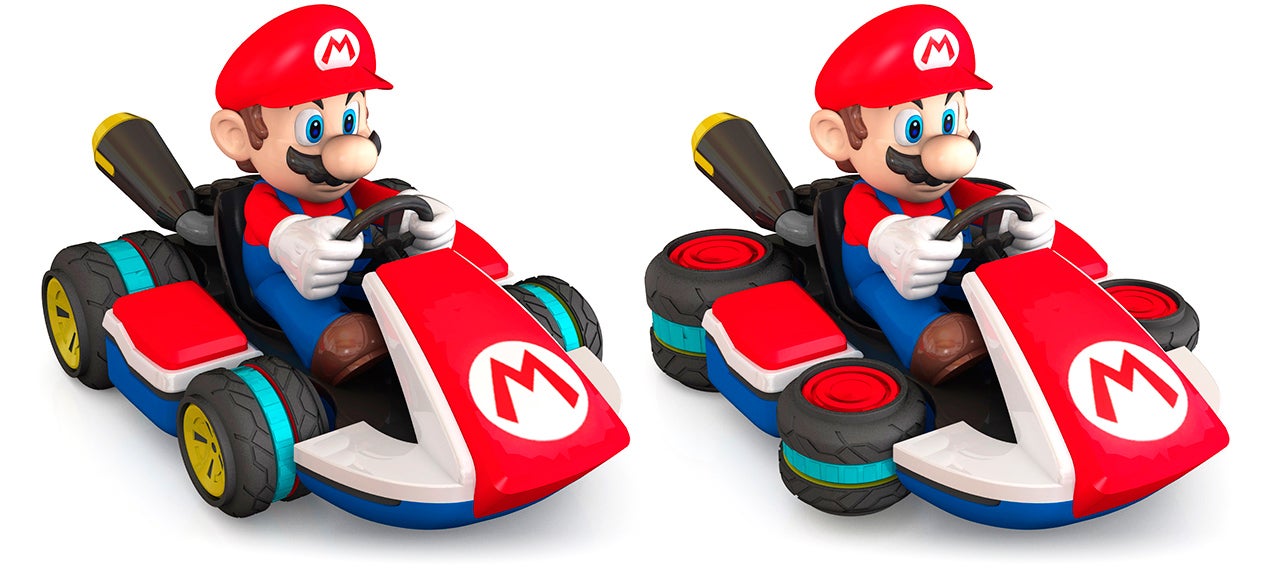 Those pesky laws of the universe make it all but impossible to recreate the tracks, vehicles and stunts you can perform in Mario Kart 8 in real life, but that didn't stop JAKKS Pacific from trying. The company's remote control version of Mario and his kart looks exactly like its video game counterpart, right down to the transforming wheels which rotate flat to put the vehicle into its hover mode.
---
If you've got a baby on the way and are worried that parenting might be a little overwhelming, don't worry, there's now an app for that. Fisher-Price's new 4-in-1 Smart Connect Cradle 'n Swing can be remotely operated from a smartphone or tablet using a free accompanying app, so you don't need to be anywhere near a restless infant to rock, soothe, or help put it to sleep.
---
In recent years actors like Michael Keaton and Christian Bale have laid claim to the Batman character in movies, but your parents (or grandparents) are probably more familiar with Adam West's take on the superhero from the campy 1960s TV series. Which means that Mattel's gigantic version of the George Barris-designed 1966 Batmobile will appeal to toy collectors from any age group — even those enjoying retirement.
---
For players who can't bear the thought of being away from their favourite board game, there's a Portable Edition of Settlers of Catan that's been around for years now. But it comes packed in a flimsy cardboard box full of tiny cards and pieces that are easy to lose. That's why this new Compact Edition of Settlers of Catan, which folds up on itself for easy transport, is vastly superior in every way.
---
If you stop and think about it, Tetris is less a puzzle game, and more a simulator that has players building virtual forts using randomly-shaped couch cushions. Except that in real life they don't disappear when you've completed a layer, nor do these giant Tetris cushions that finally fulfil the game's true living room couch fort destiny.
---
The new Star Wars movie is still months and months away, and Disney did a fantastic job of keeping tie-in toys and other merchandise hidden away at Toy Fair this past weekend. There was the occasional glimpse of what will be hitting toy stores later this year though, and Spin Master has just posted a short teaser showing brief shots of its upcoming Legendary Yoda interactive robotic toy in action.
---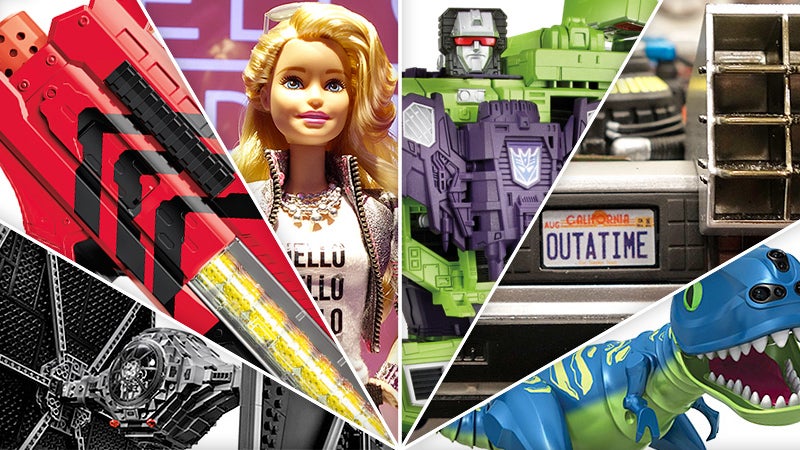 Once a year, toy companies from all over the world converge on New York to reveal what everyone will be fighting to buy their kids — or themselves — when the holidays roll around again. And once again we grabbed our cameras, put ourselves in the mind of a child (that was the easy part), and set out to find the most exciting new toys that will be hitting store shelves this year.
---
Most people look down on what's become known as 'crazy cat ladies' but it has less to do with the state of their mental health, and more about the impossible task of keeping a house full of felines clean. But what if those cats didn't need a litter box, never destroyed the furniture, and were immune to hair balls? That's why Spin Master's new robotic Zoomer Kitty is so wonderful, it promises to give a good name to crazy cat ladies everywhere.
---
If the only strategy you ever really developed for Foosball involved wildly spinning your players until the ball somehow appeared in your opponent's goal, Jet-Ball might be more up your alley. Those spindled soccer players have been replaced with a series of directional vents on the playing surface, and to move the ball around you trigger strong blasts of air using a joystick and arcade-style buttons.
---