Given how vast the Star Wars universe has become it's no surprise that finding an object or character for every letter of the alphabet wasn't that difficult a task. And if you're one of the thousands of fans lucky enough to be attending the Star Wars Celebration in Anaheim, California, next week, you'll actually have the chance to buy one of these colourful wooden alphabet blocks sets.
---
It's no secret that the whole 3D-thing didn't revolutionise the movie going experience — the second time around. But was it really because of expensive ticket prices, crappy 3D conversions, or more convenient home streaming options? Maybe. Or maybe it was because theatre-goers didn't have their choice of Avengers-themed 3D glasses.
---
You could dedicate an entire blog to covering all of the different versions and variations of Monopoly that are now available. But why bother because an official Jurassic World version of Monopoly is coming in June that swaps those boring car, top hat and cat tokens for a DNA sequence, a park tour vehicle and a T-Rex skull, among others.
---
When your action figures are at war, the last thing they need is a fortress made from stacked wooden building blocks that even a crawling infant could destroy. So the next time you're drawing up plans for a new action figure HQ, why not consider building it using these tiny 1/12-scale cinder blocks that are made from actual cement?
---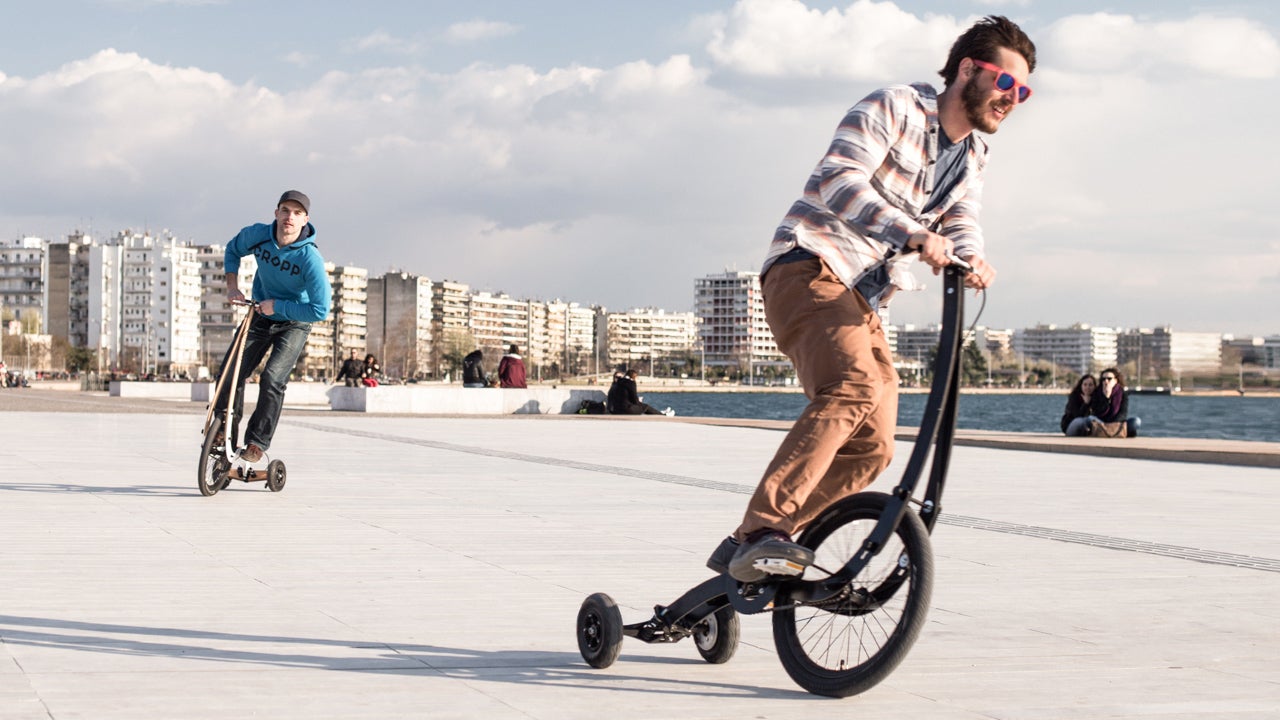 If you were under the impression that a pair of large wheels supporting a seat under your butt was the only gas-free way to get around a city, you've clearly forgotten about the innovative Halfbike first introduced last year. But that's OK, because there's now a new and improved version for urban dwellers that promises the same workout in a sleeker design.
---
It's going to be a banner year for blockbuster movies, which means there will be lots of great costume choices once Halloween rolls around. And if you're partial to the upcoming Jurassic World and its dinosaurs, you'll love Lisa Glover's simple pterodactyl getup, made from completely recyclable cardboard.
---
His true passion might be designing and building some of the most ridiculous slingshots the internet has ever seen, but even Joerg Sprave needs to stretch his creative wings from time to time. Which is why Joerg's most recent creation is an insane chainsaw-powered wooden machine gun that can decimate a target firing nothing but marbles.
---
For those days when you find just getting out of bed in the morning a challenge, this instant inflatable Hero For a Day getup will give you the confidence boost you need to face the shower, your morning commute and your co-workers. Eventually, you'll work your way up to super-villains, but let's take things one day at a time.
---
It's hard not to like a character who can express vast amounts of emotion and feeling without ever muttering a single word. But for those who are truly obsessed with Mr Bean, Enterbay has created a fully posable miniature version of the character complete with a flawless head sculpt that's a dead ringer for Rowan Atkinson — it's actually a little unnerving.
---