It was lunch time on a muggy late September day in 2013 when an explosion shook downtown Orlando, Florida. A warehouse on west Jefferson street was the casualty. Police cars, ambulances, and fire trucks were already on their way by the time Tim Roth, a good Samaritan, was on the scene. As he searched through the rubble and debris for injured humans, what he found was something else entirely.
---
Doctor Who comes in many shapes and sizes — literally — thanks to the wonderfully wonderful science-magic of regeneration. What the good Doctor's regeneration powers aren't capable of is transforming him into bits of LEGO, which would be undesirable from a practical standpoint, but great for those of us who, well, like LEGO. Fortunately, we have enterprising people like Andrew Clark, who's put together a great pitch for an official Doctor Who LEGO set.
---
Last week Samvir Thandi blew our minds with a model rocket car that hit 458 km/h. But it was basically just a rocket engine with wheels that you aimed — hopefully accurately — and fired. Nick Case's remote control speed demons actually have electric motors, and his latest creation — quite possibly the world's fastest RC car — just hit over 300 km/h.
---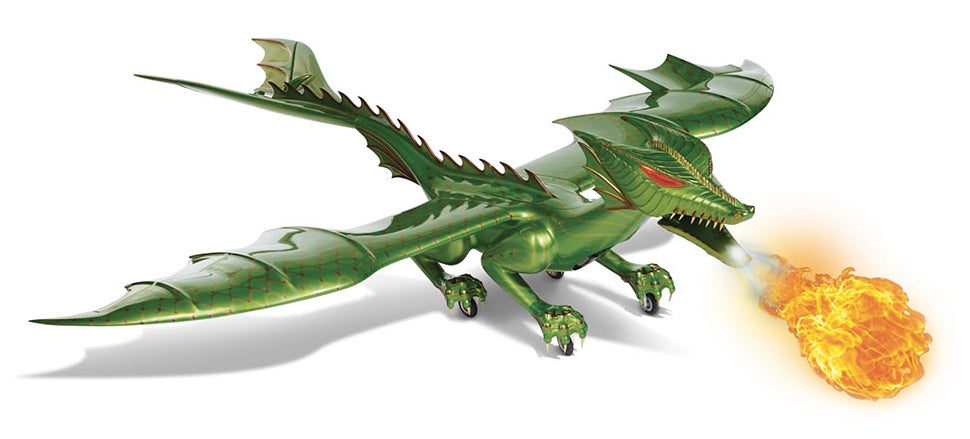 Thanks to Game of Thrones, dragons are en vogue again. And Hammacher Schlemmer is capitalising on their renewed popularity by letting you buy one of Rick Hamel's amazing flying RC dragons. In the air it can hit a top speed of around 112.7km/h, and on the ground it actually breathes fire. What more could anyone ever want?
---
A toy car could easily break the sound barrier — or go even faster — in a kid's spirited imagination. But back in reality it takes more than that. You need engineering, patience, and a handful of rocket model engines — all of which helped Samvir Thandi's SST-3B-Falcon rocket hit a top speed of 462.831km/h.
---
When I was a kid, the Big Wheel endgame was to pedal down the driveway, then peel out in a Mario Kart-esque sliding turn. That typically meant more skinned chins and elbows than glory. But Razor's Crazy Cart lets me drift to my heart's content. You want fun? This thing is fun.
---
It seems the best way to impress someone on the market for a set of industrial robotic arms is to demo them playing with kid's toys. First DENSO Robotics did it with slot cars, and now ABB gets in on the action with this mesmerising model train demo.
---