When you're building supertalls, there are other problems to worry about than just making sure they don't fall or blow over. One of the biggest is how to get people up to the top in a reasonable amount of time. If you've got a slow elevator the 125th floor might as well not exist.
---
In a remote stretch of the Amazon rainforest, a skinny steel tower will soon rise over 300m into the sky — higher than the Eiffel Tower, way higher than the trees. The Amazon Tall Tower Observatory is a joint effort by Brazil and Germany to figure out exactly how carbon dioxide fluctuates inside the South American rainforest, one of the "green lungs" of the planet.
---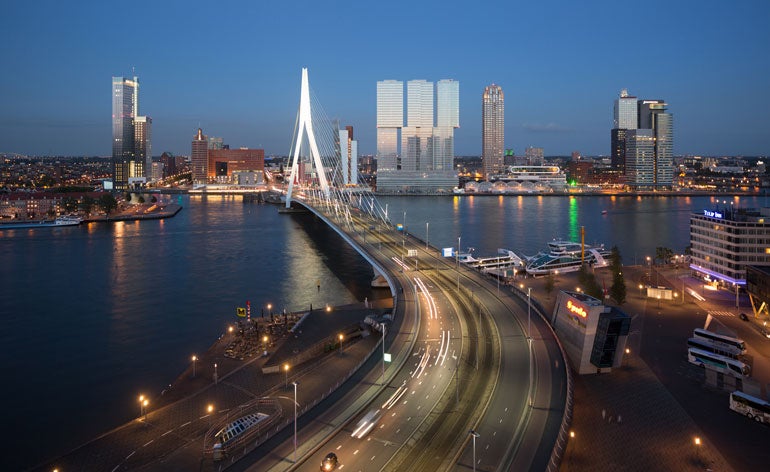 The 43-storey De Rotterdam is Europe's largest building. Inside, however, it's a study in how to live inside a small space: The behemoth's tiniest unit is only 59 square metres, yet because it's kitted out with incredible transforming furniture, it functions like a five room apartment.
---
Rent at the 163-storey Burj Khalifa doesn't come cheap. While a one-bedroom "only" costs $US55,000 a year (according to CNN), it's the $US25,000 service fee that really gets you. Now, a fight over these fees may force tenants to make the climb home on foot.
---
The seam where a city meets the country is an uncanny place. It's not rural, yet not exactly urban, either, a non-place often full of half-finished streets and isolated developments. Most of us only see these environments through the windows of our cars, but photographer Alexander Gronsky has spent the last four years in Moscow's outskirts, watching and photographing.
---
At first glance, this winning design for a mixed-used complex in Zhejiang Province design by Liu Xisang seems like just another glassy tower project. But take a closer look at the facades, which are laced with a network of outdoor spaces spiralling upwards to connect the ground floor to the roof with a — nearly — continuous path of green. [DesignBoom]
---
"I like watching these buildings burn," says Jing Jing Naihan Li, a young Beijing architect. That would normally come off as ominous, but in this case, it's awesome: Naihan makes candles that are modelled after the tallest buildings in the world. Because, after all, aren't skyscrapers just the candles on the glitter-covered double chocolate ganache birthday cake that is the city?
---
Proving that all press is good press when it comes to real estate, Rafael Viñoly — the architect behind two recent death-ray skyscrapers — revealed plans for a new super-tall tower in Lower Manhattan today. It'll be his second supertall in NYC, and like the first, this one is conspicuously free of curved surfaces.
---