Tesla's Model S all-electric sports sedan is a constantly evolving vehicle, with new features and upgrades constantly added throughout the three years of its existence. But today, there's a big update that entirely changes the car that you can buy. Three new options come in the form of longer range, a lower starting price, and an even faster rate of acceleration.
---
---
---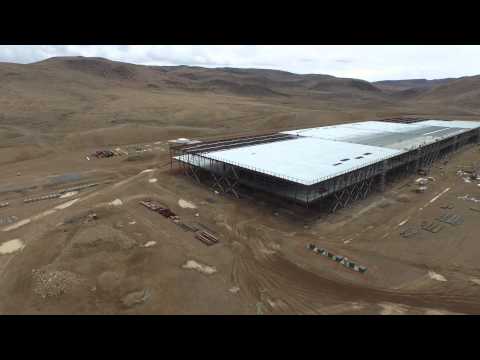 Video: Just like the massive Apple Campus 2, Tesla Motors' US$1bn battery-building Gigafactory is under construction — out in the Fallout wastes Nevada desert, rather than in the heart of Silicon Valley — and the building process looks like it's well under way. A drone enthusiast took the opportunity to take a look at the nascent plant, and filmed the entire thing in 4K.
---
While wind and solar power have made great strides in recent years, with renewables now accounting for 22% of electric energy generated, the issue that has held them back has been their transience. The sun doesn't shine at night and the wind doesn't blow year-round — these are the mantras of all those opposed to the progress of renewables.
---
---
The first Tesla Motors Supercharger station in Australia that's not in the middle of Sydney has been confirmed and approved, and it's slated for Goulburn in New South Wales' Southern Tablelands. Part of an entirely free, nationwide, high speed electric vehicle battery charger network, the set of eight Superchargers in Goulburn will come online before June.
---
---
There's a new Tesla Motors Model S all-electric sedan. It's the Model S 70D, and it's a slightly less bonkers version of the all-wheel-drive, super-fast Model S P85D. And we're getting it in Australia.
---
Elon Musk is having a chatty day on Twitter again. In between talking SpaceX and drone rockets, he shared a video of a Tesla Motors Model S showing off a pretty impressive feat — but it's not a feat of speed or of electric range.
---