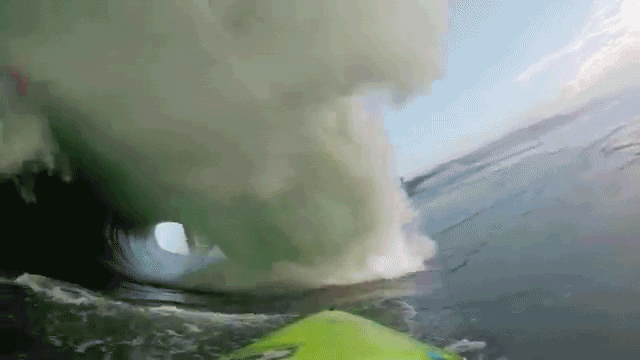 When you get swallowed by the waves of the biggest sea monster in the world (also known as the wonderful ocean), there's not much you can do but protect your head and hope you know which way is up. It's like being trapped inside a water tornado. This footage, captured by pro surfer Mark Healey, shows the exact feeling of getting hit by a gigantic wave. It's a brutal spin.
---
Thomas Meyerhoffer used to work at Apple and helped design Chumby. These days, he's reinventing the classic shape of the surfboard. Looks more like a snowboard, with that midcut radius. Or a spaceship. I like it.
---
Not surprisingly, you get the nerdiest surfboard ever. The "Shredder" surfboard was designed by a computer programmer named Mike Sheldrake after he decided to replace his old board. Since he did not possess the skills necessary to make a board the traditional way, he decided to use 3-D modelling software to design a snap-together deck built out of 400 pieces of computer cut corrugated cardboard then shellac it with fiberglass and epoxy resin. Thanks to a mathematically sound triangular pattern, force is evenly dispersed throughout the board—making it incredibly strong.
---
So, you like surfing, but your apartment and car are not big enough for a full-sized board. What's the solution, I hear you ask. Sure, you could take up a new sport, or you could get yourself a Collapsible Surfboard. Designed by Nicholas Notara, who wanted to achieve portability without compromising functionality, the frame is made of carbon fiber, and the whole board is taken apart in three easy moves:
---