Ever wondered how we go from still air to swirling storm? In this video meteorologist — and storm chaser! — James Spann explains where tornadoes come from.
---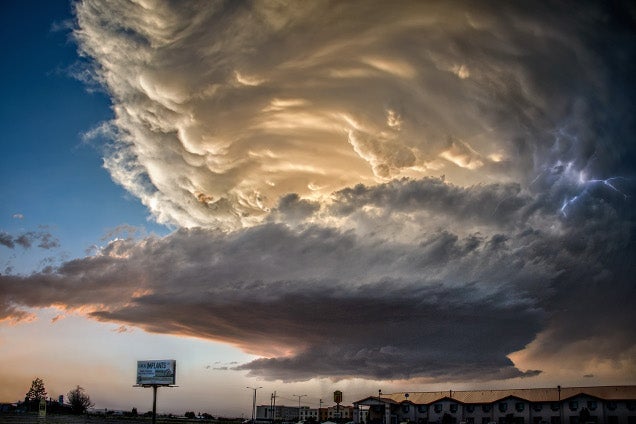 ---
Humans are almost universally bad at planning for the distant future — most of us would rather live in blissful, unprepared ignorance than think about our superannuation. The same goes for cities: Dealing with the next storm is way easier than spending many billions of dollars to protect us from storms 20 years down the road.
---
Some of the most breathtaking landscapes on Earth happen over the great plains of the United States. Often, their beauty is on their skies, as these territories are the stage of some of the the most incredible thunderstorms and supercells in the world. This mesmerising time-lapse — filmed in Wyoming and South Dakota — shows exactly that.
---
A bridge that deploys huge inflatable buoys to slow storm surges. A barrier reef grown from minerals harvested by electrical currents. An artificial island protecting the most surge-prone neighbourhoods. Most of us are bracing for a blizzard this week, but the winners of a recent design competition, Stormproof, are imagining how to protect cities for the next summer storm season.
---
In June 2013, Mayor Bloomberg presented a 438-page proposal that laid out hundreds of ways in which New York needs to adapt to survive storms like Sandy, which hit the city almost a year ago. Some of his recommendations were sensible, others were intriguing. Most of them seemed like long-term investments. But the city is actually already moving on several significant infrastructure upgrades — and they're poised to change the face of NYC forever.
---
Remember how your mum/dad/legal guardian/leader of your gang of street urchins used to tell you not to stand near telephone poles in a storm? Yeah, there was a reason for that. And as you can see in the video above, that reason goes "boom". Followed by lots and lots of fire.
---
It took photographer/storm chaser/all-around brave guy Mike Olbinski four years to capture this footage of the formation of a supercell near Booker, Texas. That is some real commitment, and it finally paid off in an awesome way.
---