---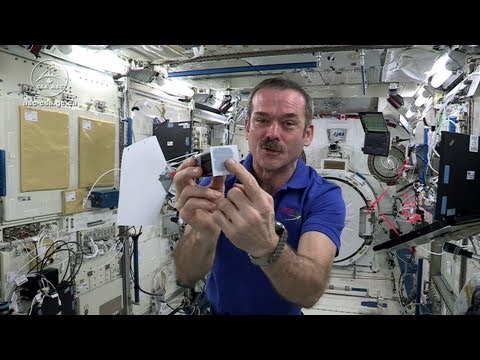 You thought Canadian astronaut Chris Hadfield turned his back on us when he left the ISS earlier this month, didn't you? For shame, internet patron, for shame. Hadfield may be safely back on Earth, but the otherworldly videos continue to surface.
---
45 mice, 15 newts, eight gerbils and a handful of snails returned to Earth today after a month in space in a Russian capsule. The Bion-M completed a parachute-assisted landing about 750 miles southeast of Moscow, and researchers immediately set up a mobile lab near the capsule to begin tests on the animals.
---
After being strapped onto the front of a 15-story controlled explosion and launched clear out of the atmosphere to live in an experimental laboratory orbiting around the Earth at thousands of miles an hour, the least NASA can do is give you a good meal.
---
We were all impressed with the dramatic trailer for Gravity, with George Clooney weathering an explosion on an orbiting space station and Sandra Bullock spinning off into the void of space. Things like that make good cinema. There are other space crises, though, that will never get their own movies. Here are some space disasters that are just too awkward for the cinema.
---
Take a deep breath. You're lucky to be able to. Without a handy blanket of atmosphere gases to swaddle us all, we'd be no more than a twinkle in evolution's eye. But that wonderful blanket of gas is slowly escaping, molecule by molecule, and there's not much we can do about it.
---
If you want a Curiosity rover of your own but don't quite have NASA's budget, you can save yourself $US2,499,999,850 by going with designer Arnold Patrick Martin's beautiful wooden model. It doesn't move, the cameras don't work, and it probably won't survive a trip to Mars, but it's also only $US150.
---
The most iconic skyline in the world (or at least in America) would look completely different if it was on another world. On Venus, New York City would be a yellow haze, on Mercury would look glow in the dark, on Mars would make everything rusty and on Uranus and Neptune would totally obliterate the city.
---
Catching a glimpse of even regular neutrinos — low-energy particles generated in the atmosphere — is difficult enough, but spotting a "cosmic neutrino" left over from the Big Bang has been downright impossible. That is until this cubic kilometer buried under Antartica's frozen wastes started looking.
---