After our call to stop drinking bottled water, we asked for reader advice for how to kick a bad habit. You responded with with hard-earned wisdom and tips for how to cut back or cut out everything from sugar to smoking. Here's how to break free.
---
Need to scrape gum off a footpath or get bird crap off your car or even clean your toilet? Just pour soda on it or around it or in it and let the delicious bubbly sugar liquid diabetes do its thing. Soda can be a magic cleaning material, which is awesome to know in a pinch but also completely disgusting since we willingly put it in our body.
---
The delicious diabetes drink commonly known as soda is a true scientific wonder. We know it's crap, but we love it anyway. CrazyRussianHacker wanted to show just how much crap (and sugar) is in one bottle of Coke, so he boiled out all the water in the soda to see what was leftover.
---
The Breakmate was supposed to revolutionise how we consumed soft drink, on par with the advent of the soda fountain and soda bottles, and bring delicious sugary soft drinks to millions of disenfranchised American office workers. So why did Coca-Cola's foray into small-scale commercial vending during the 1980's flop so miserably?
---
Fake sugar found in Ontario's tap water can be traced back to… sewage. Artificial sweeteners originating in diet soft drinks and foods survive a pretty remarkable journey through our bodies, down the toilet, through the wastewater treatment plant, into rivers, and, finally, into the water flowing out of the tap all over again.
---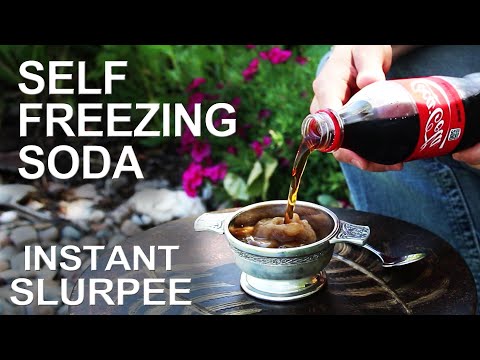 Soft drink is teeth sweeteningly delicious. That is undeniable. Slushies capture all that is good with soft drink but adds tongue tingling snowflakes into the mix. It's absolutely perfect for the summer. But how can we soda-sipping peasants experience the rare beauty of slushies at home? With a little bit of magic and a bit more of science.
---
Things change over time. Famous logos morph from black and white text into ornately embossed colourful graphics. Home screens go from a few icons to pages and pages. Phones go from bricks with numbers to slates with touchscreens. It's just what happens. Little tweaks become overhauls. Just look at how your favourite soft drinks have transformed.
---
Sharing a drink with someone when they can take a sip from the other side of your glass is reasonably acceptable. But that's just not possible with a canned beverage. You either agree to share their germs or refuse to share at all. It's an age-old conundrum that Coca-Cola has finally solved with a two-in-one can that twists apart to make sharing easy.
---
Occasionally, you'll luck out and climb into a taxi cab with such amenities as free tissues, discarded newspapers or all the tourist pamphlets you can carry. But if you find yourself in New Orleans, you might end up in one of the 250 vehicles in the Orleans Carriage Cab fleet that now feature soda-dispensing vending machines.
---
I once loved everything about soft drink. Its amazing refreshing ability, its sweetness, its bubbles — it was magic in liquid form. But of course it came with the cost of ridiculous amounts of sugar and calories. So I cut back. But for people who don't cut back on soft drink? Watch out. Here's what would happen if those cute Coca-Cola polar bears really drank soft drink.
---