Video: It's going to freeze obviously. But there's this awesome possibility that the soda can will split in half and start spewing an explosion of almost frozen Coca Cola into the surrounding liquid nitrogen. Once it does that, the exploded coke looks like it has been stopped in time, the soda has frozen into art mid-explosion.
---
Video: Coca Cola is delicious. It's a cause of diabetes and a bringer of obesity but it is delicious. Turns out it's also probably used by aliens to make art of their home planets. Check out what happens when you melt lead and then add that dark sugar water into the mix, it smokes and pops and goes wild but what's left is a metallic landscape that looks incredible.
---
After our call to stop drinking bottled water, we asked for reader advice for how to kick a bad habit. You responded with with hard-earned wisdom and tips for how to cut back or cut out everything from sugar to smoking. Here's how to break free.
---
Need to scrape gum off a footpath or get bird crap off your car or even clean your toilet? Just pour soda on it or around it or in it and let the delicious bubbly sugar liquid diabetes do its thing. Soda can be a magic cleaning material, which is awesome to know in a pinch but also completely disgusting since we willingly put it in our body.
---
The delicious diabetes drink commonly known as soda is a true scientific wonder. We know it's crap, but we love it anyway. CrazyRussianHacker wanted to show just how much crap (and sugar) is in one bottle of Coke, so he boiled out all the water in the soda to see what was leftover.
---
The Breakmate was supposed to revolutionise how we consumed soft drink, on par with the advent of the soda fountain and soda bottles, and bring delicious sugary soft drinks to millions of disenfranchised American office workers. So why did Coca-Cola's foray into small-scale commercial vending during the 1980's flop so miserably?
---
Fake sugar found in Ontario's tap water can be traced back to… sewage. Artificial sweeteners originating in diet soft drinks and foods survive a pretty remarkable journey through our bodies, down the toilet, through the wastewater treatment plant, into rivers, and, finally, into the water flowing out of the tap all over again.
---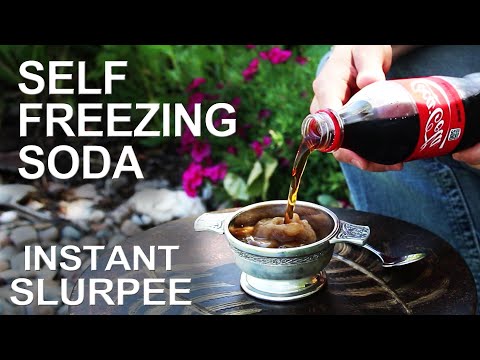 Soft drink is teeth sweeteningly delicious. That is undeniable. Slushies capture all that is good with soft drink but adds tongue tingling snowflakes into the mix. It's absolutely perfect for the summer. But how can we soda-sipping peasants experience the rare beauty of slushies at home? With a little bit of magic and a bit more of science.
---
Things change over time. Famous logos morph from black and white text into ornately embossed colourful graphics. Home screens go from a few icons to pages and pages. Phones go from bricks with numbers to slates with touchscreens. It's just what happens. Little tweaks become overhauls. Just look at how your favourite soft drinks have transformed.
---
Sharing a drink with someone when they can take a sip from the other side of your glass is reasonably acceptable. But that's just not possible with a canned beverage. You either agree to share their germs or refuse to share at all. It's an age-old conundrum that Coca-Cola has finally solved with a two-in-one can that twists apart to make sharing easy.
---