Whilst we're all still reeling in the aftermath of the gadget glutton-fest that was CES and MWC, it's worth remembering that if there's more to your world than iPhone cases and Bluetooth toothbrushes; the best is yet to come this year. Here's the stuff that will probably warrant your attention in the next twelve months.
---
Optus has had 4G LTE testing sites in New South Wales for a while now, experimenting with network capacity and throughput to multiple devices. With 4G technology advancing and speeds increasing, telcos have to keep adding new hardware and tweaking it to provide maximum performance to their customers. Optus' latest network test has turned up some impressive numbers.
---
Starting with the DynaTAC in 1974 and ending with the iPhone 5s, this wonderful little animation zips through 40 years of mobile phones in a little over a minute.
---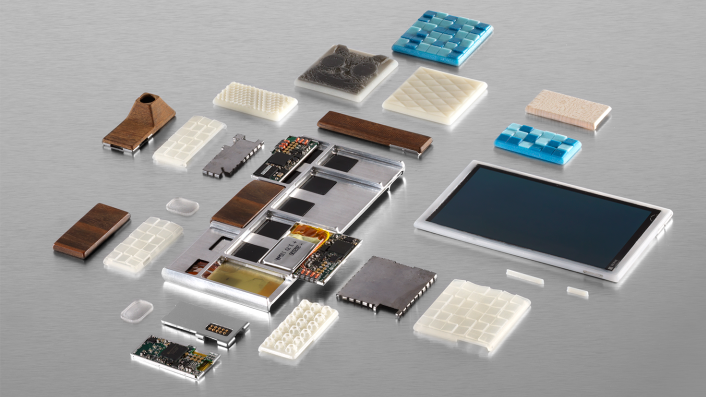 Google is taking its Ara modular smartphone platform increasingly seriously. Now, in interviews with Time it has revealed that it aims to sell a simple version of the phone for as little as $US50.
---
Mobile World Congress is coming to a finish over in Barcelona. Phone makers are closing up their stands, pulling down company banners and sliding fingerprint-smudged handsets back into their packing crates. By all accounts, everything went off without a hitch. If you were following the events, though, there's a solid chance you were left unimpressed.
---
We spend our days walking around in a state of distracted bliss. It's dangerous. Let's not die, OK? While you're rocking out with your EarPods in, you're in danger of failing to heed the hazards of the world around you. A forthcoming app turns your phone's microphone into a second set of ears to keep you from going splat.
---
The Yotaphone first caught our attention last year, with its seemingly crazy combination of 4.3-inch front-mounted LCD and 4.3-inch E Ink display around the back. At Mobile World Congress 2014, the Russian team from Yota Devices is back, with a redesigned and reinvigorated Yotaphone boasting larger displays and some seriously powerful hardware.
---
---
In developing countries, the high-end smartphone market is cornered by the big guys. But at Mobile World Congress, the Mozilla Foundation has announced a plan to get a different slice of the smartphone pie — with a low-end Firefox OS phone that will costs around $25.
---