In less than a decade, there might be life on Mars. No not because the aliens have been hiding all this time, but because NASA might just put it there. The brightest minds at the Ames Research Center recently proposed sending plant life along with the next Mars rover. It's actually a pretty good idea.
---
Yeah, I can totally see it! How can you miss that? It's right there. Clear eyes, full Earth, can't miss. Wait, really? No of course not. Anyone who tells you that is either a liar or a hawk. Earth looks incredibly tiny up in that Martian sky. Sure, if you squint hard enough and fake it long enough, you'll spot it the dot but it's not unlike looking for dust on a wall.
---
In case there was any doubt, the engineers at JPL did an amazing job: Just look at how the the Mars Curiosity Rover deals with the red planet's bumpy terrain in this time-lapse GIF, taken from the Left Navcam pointed down at the wheels in motion.
---
---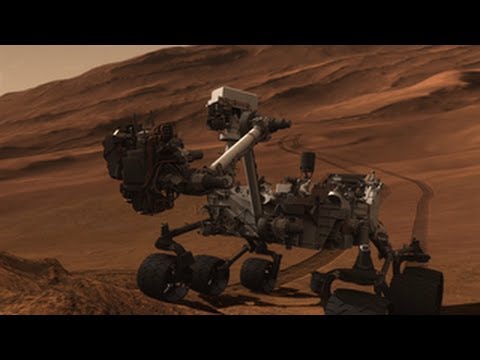 As you may know, yesterday was Curiosity's one-year anniversary on Mars, where it's been spending its time wandering the desolate, barren Martian desert in inconceivable levels of solitude. And how did NASA decide to commemorate the occasion? Happy birthday, idiot. Now dance, monkey — dance! Here's why it's sad.
---
Can you believe it's been a full year since the Mars Curiosity rover made its absolutely spectacular red, dusty landing? Millions watched with bated breath the day that NASA's Mars Science Laboratory began its historical journey. It may have taken everyone's favourite interplanetary robot a little while to get up and running, but once it did, the discoveries kept on coming. Here's a look back at some the more fun, mind-blowing, and all around spectacular of Curiosity's finds in honour of its first martian anniversary.
---
When NASA's Opportunity rover launched on July 7th, 2003, expectations were modest. It would spend 90 Martian days exploring soil and rock samples and taking panoramas of the Red Planet; anything else would be a bonus. Nearly 10 years after its initial shift was up, Opportunity is still going strong.
---