---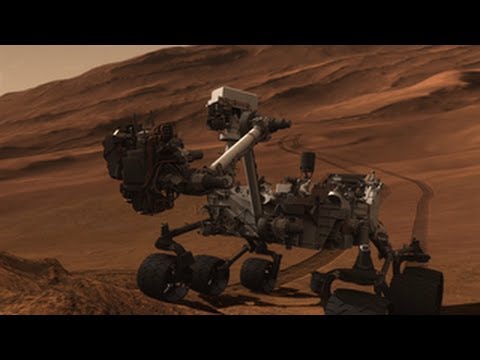 As you may know, yesterday was Curiosity's one-year anniversary on Mars, where it's been spending its time wandering the desolate, barren Martian desert in inconceivable levels of solitude. And how did NASA decide to commemorate the occasion? Happy birthday, idiot. Now dance, monkey — dance! Here's why it's sad.
---
Can you believe it's been a full year since the Mars Curiosity rover made its absolutely spectacular red, dusty landing? Millions watched with bated breath the day that NASA's Mars Science Laboratory began its historical journey. It may have taken everyone's favourite interplanetary robot a little while to get up and running, but once it did, the discoveries kept on coming. Here's a look back at some the more fun, mind-blowing, and all around spectacular of Curiosity's finds in honour of its first martian anniversary.
---
When NASA's Opportunity rover launched on July 7th, 2003, expectations were modest. It would spend 90 Martian days exploring soil and rock samples and taking panoramas of the Red Planet; anything else would be a bonus. Nearly 10 years after its initial shift was up, Opportunity is still going strong.
---
The Curiosity Rover is pretty busy up there on Mars, so how did it get time to star in this adorable new Qantas frequent flyer ad? Who cares, just watch it because cute robots.
---
Opportunity, aka The Little Rover That Could, is still making important discoveries 10 years into its Martian jaunt. After the devastating loss of twin rover Spirit in 2011, Opportunity rallied and kept trekking, only to recently discover a fascinating rock near Endurance Crater.
---
If you want a Curiosity rover of your own but don't quite have NASA's budget, you can save yourself $US2,499,999,850 by going with designer Arnold Patrick Martin's beautiful wooden model. It doesn't move, the cameras don't work, and it probably won't survive a trip to Mars, but it's also only $US150.
---
Sifting through soil on Mars, NASA's rover Curiosity paused to take a picture — and exposed its own bad behaviour. The shot included a bright object lying in the Martian dirt, and a closer look suggests that the rover is guilty of littering: it appears the object is a piece of plastic wrapper that has fallen from the robot.
---
---