It will be years before Amazon's dream of same day package deliveries via drone will ever become a reality. But you can forget about trying to shoot one down for some free electronics thanks to new software that allows a quadcopter to stay aloft — and on course — even after losing one or more of its propellers.
---
Most of the videos you can find of Rubik's Cube-manipulating robots are purpose-built to solve the puzzle in record time. But Baxter, designed as an affordable and easy-to-teach replacement for assembly line workers, isn't designed for any specific task. And that's what makes watching him solve a cube even more impressive.
---
Andy Rubin was the man behind Android, but he stepped aside earlier this year. At the time, people suggested he was planning to concentrate on his personal interests — and now an interview with the New York Times reveals that he's busy working on a secret Google project to create a new breed of robots.
---
The thought of having to automate a morgue to keep up with the demand is a little depressing, but researchers at the University of Zurich in Switzerland have developed a robotic system that can help with at least part of an autopsy by spotting physical abnormalities on a body — giving pathologists as much data as possible for determining the cause of death.
---
Robots may not have souls, but pretty soon they might have real, 3D-printed, fluid-pumping hearts. Except those hearts won't be pumping blood; they'll be pumping pee.
---
Russia's SAR-400 robotic cosmonaut — which bears some significant similarity to NASA's Robonaut — is in practice for its first ever space walk. But don't worry, because it will be controlled from afar, just like in this picture.
---
It's easy to live with a few smudges on your smartphone's display, but for devices like solar panels that are completely dependent on every last drop of light making it through, cleanliness is a top priority. And when you've thousands of solar panels in a field drinking in sunlight, cleaning them all manually isn't an option. That's when you need to call in the robots, particularly Sinfonia's new cleaner that excels at squeegeeing at awkward angles.
---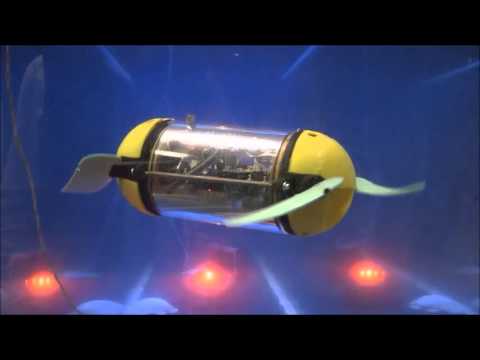 Thanks to millions and millions of years of evolution, sea turtles work. They work well. They can swim stealthily around the ocean, sliding between chunks of coral if necessary. That in mind, it's no wonder the sea creatures are the inspiration for the latest underwater robots.
---
It seems logical that if you're designing a flying robot, you might borrow a few ideas from Mother Nature's airborne repertoire. But researchers at NYU instead too their inspiration from under the sea for this unusual robotic craft that flies through the air the same way a jellyfish moves through the ocean.
---