The days of hand-picked fruits and vegetables — at least those picked by human hands — are quickly coming to a close as robotic farming technology continues its rapid advancement. A team of roboticists from the EU, for example, have just debuted an automated fruit and vegetable harvester that can spot ripe produce just by looking at it.
---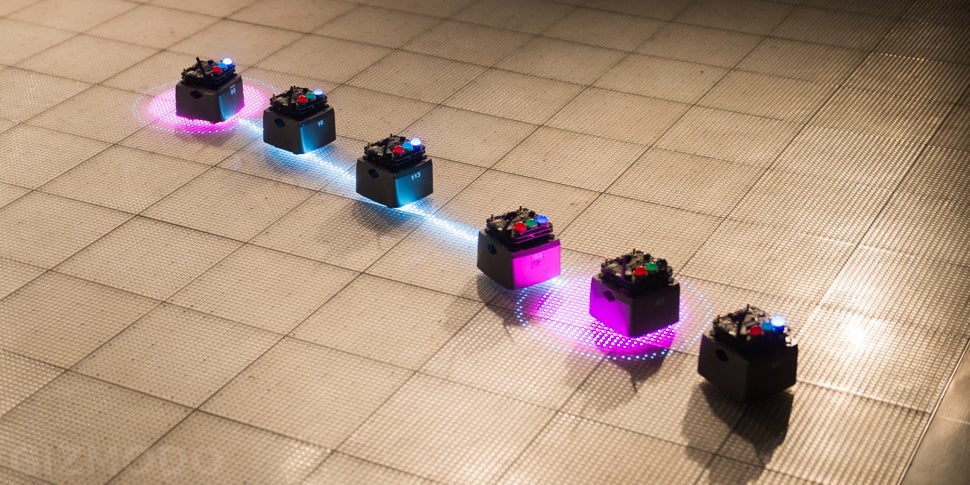 ---
Instead of killing kids during private tours of his fantastical factory, Alex Reben is a Willy Wonka-type character of a different sort. He builds robots for a living — seemingly just for fun — and while some of his creations are certainly distressing, they're all fun to watch, interact with, or just ponder. The folks at Cool Hunting had the opportunity to check out Alex's lab, and thankfully, they brought a camera.
---
Watching ballet on TV doesn't provide nearly as satisfying an experience as seeing it performed in person — at least using traditional filming techniques. Director Tarik Abdel-Gawad has taken a radical new approach to capturing footage of a ballet performance, using a motion-control camera on a robot arm that's been choreographed as part of the routine.
---
First it was an extra set of shoulder-mounted robot arms, but now MIT feels that humanity could also benefit from a couple of extra robotic fingers on each hand. Faye Wu and other researchers at the school have been developing SR — or supernumerary robotic — fingers that work alongside your existing digits to make countless tasks easier to handle.
---
It's been almost 15 years since Honda first introduced Asimo, the company's attempt to create a humanoid robot that can walk and perform other human-like tasks. But Asimo's most recent upgrade introduces something unsettling: a pair of dead black eyes and a permanent smirk that leaves the bot looking more like an unsettling china doll with a secret urge to overthrow its creators.
---
More often than not, man's attempts to clone itself through robotics has lead to the creation of unsettling, and downright creepy, automatons. So kudos to the folks at Old Spice, or at least its ad agency, for finding a way to hilariously embrace the Uncanny Valley through a series of commercials starring its newest hunk: the Mandroid.
---
It's getting increasingly difficult to feed humanity's seven billion-plus mouths, especially as climate change begins to wreak havoc on the world's staple crop supplies. While efforts are being made to find hardier alternatives, a research team from the University of Sydney has developed a tool to better manage the crops we've already got.
---
Video: Instead of making the Marky Mark Transformers sequel, Michael Bay should have just sent in this sick, non-stop supercut of every single robot fight scene from the Transformers trilogy to theatres. Yep. This video is an orgy of explosive metal on metal battle scenes without any of the pesky humans screwing it up. I would love to see this IMAX.
---