Pleurobot looks like a salamander skeleton come to life and that's no coincidence. The robot was engineered to slink around exactly like a salamander. And we mean exactly.
---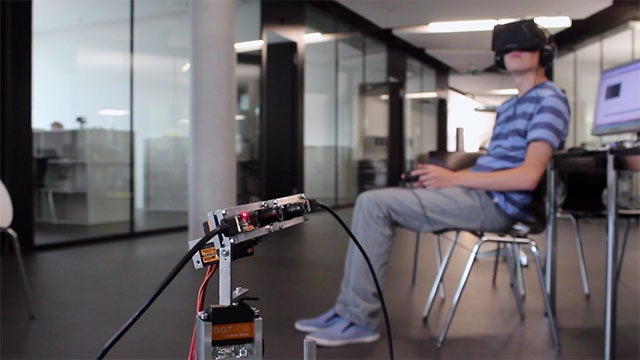 Even before the Oculus Rift has made it into the homes of eager early adopters, there have already been super great, and yes, super creepy, applications dreamed up by developers. This is definitely one of the super great ones.
---
When a decades old toy breaks down and stops working with no hope of repair, you usually just toss it or find some way to recycle the parts. But what if you're as attached to that toy as you were a pet? In Japan, people are giving Sony's robot AIBO dog actual funerals to say goodbye to their faithful, electronic companions.
---
As robots get small enough to easily swim around inside the human body, they will soon be used to perform medical procedures all from within a patient. And researchers at Johns Hopkins University are making such an idea even more plausible with the development of tiny robotic grippers that will actually dissolve away inside a patient after a medical procedure is complete.
---
OK, it's not exactly a robot — but I bet it's still the craziest thing you've seen all day. Japanese juice and ketchup company Kagome built a freaking wearable tomato dispenser for a runner at the Japan Marathon this weekend.
---
When he's not busy with his job as co-founder of Wolfram Research, Theodore Grey makes a lot of incredible things. Sometimes, they have to do with metal and fire. But fairly regularly he uses a robot to make a quilt. And this is the quilt which rules them all.
---
The new Star Wars movie is still months and months away, and Disney did a fantastic job of keeping tie-in toys and other merchandise hidden away at Toy Fair this past weekend. There was the occasional glimpse of what will be hitting toy stores later this year though, and Spin Master has just posted a short teaser showing brief shots of its upcoming Legendary Yoda interactive robotic toy in action.
---
Baoding balls are two metal balls that are rotated over and over again in one hand for meditation, exercise or rehab purposes. A lot of dexterity and focus and strength is necessary to pull of the rotation. Not everyone can do it! This robotic arm controlled by wires can though. Look at those fake flexible fingers move.
---
Most people look down on what's become known as 'crazy cat ladies' but it has less to do with the state of their mental health, and more about the impossible task of keeping a house full of felines clean. But what if those cats didn't need a litter box, never destroyed the furniture, and were immune to hair balls? That's why Spin Master's new robotic Zoomer Kitty is so wonderful, it promises to give a good name to crazy cat ladies everywhere.
---
Video: In this video, a combat robot goes up against a gang of ginger kittens. I couldn't deprive you of the opportunity to watch this, even though it was filmed two years ago and all the cute kittens are now hardened, robot-destroying thugs.
---