The KUKA Robot Group is already hyping its upcoming match next week between one of its robotic arms and professional table tennis champion Timo Boll. But hobbiest engineers can make ping-pong bots too. Here's Ulf Hoffmann's garage version, which is surprisingly competitive given its amateur status.
---
Like Def Leppard drummer Rick Allen who lost his arm in an accident but kept on performing, aspiring drummer Jason Barnes didn't let losing his right arm two years ago deter him from realising his dream. He built a crude prosthetic using springs that allowed him to keep on drumming, but after enrolling at the Atlanta Institute of Music and Media, he met an engineering professor who realised he could build Barnes something better.
---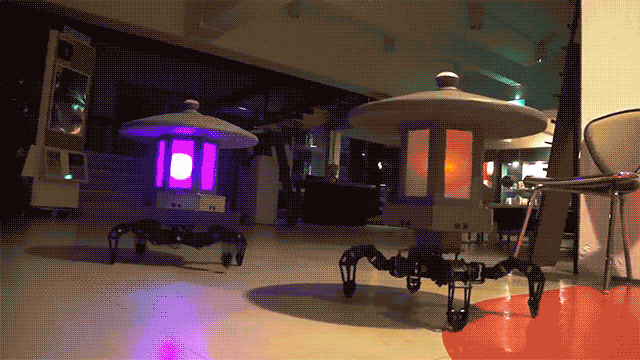 Backyard lighting is as much about decoration as it is about safety, allowing you to enjoy your artificial oasis at night without the risk of accidentally stepping on a hidden rake. But why run lights to every corner of your yard when you can just mount a decorative Japanese lantern to a quadruped and simply have it follow you around all night?
---
Giving a robot a chainsaw sounds like just about the most unsafest thing mankind could ever do. But in this case, ironically, it's actually making things safer for humans since this robot is designed to autonomously climb and prune very tall trees.
---
In 1992, Amanda Boxtel suffered a vicious skiing accident that left her paralysed from the waist down. Doctors said she would never walk again. This week, she proved them wrong, with the help of the world's first 3D printed exoskeleton that gives her the ability to climb out of her wheelchair and walk once again.
---
Imagine walking into the world's biggest toy store except that everything you see is completely brand new — and you can't buy any of it just yet. That's exactly what covering Toy Fair — the toy industry's annual trade show — is like. It's a tantalising glimpse into what kids will be begging their parents for over the upcoming year, and we've sifted through all the hoopla to bring you the best of the best.
---