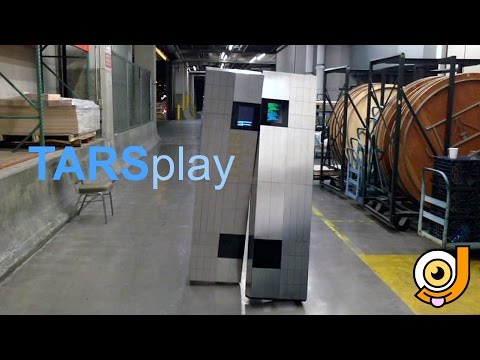 If you weren't a fan of Matthew McConaughey's brooding lead in Interstellar, then the obvious highlight of the movie was TARS, the 70 per cent funny army-surplus robot that accompanies him through space and time. This replica, made for Seattle Comic Con, honestly looks better than the real thing.
---
Video: I wish I had a window with a perfect view of this pack planter robot. I would open it every morning to watch the machine transplant pansies while I have my breakfast — and I would probably be late to work for the rest of my life.
---
With Luke covering Mobile World Congress 2015 I have spent the last few days holding the reins at Gizmodo HQ as guest Editor. In lieu of an actual introduction, here is a farewell instead, at least until next time.
---
---
Video: Dancer Madd Chadd is so, so good at doing the robot that he actually looks more like a frighteningly realistic robot pretending to be a human than a human dancing like a robot. In this latest video, he's sitting down and attempting to eat a sandwich like a robot would and it looks absolutely perfect.
---
The robot waiter has arrived! In China. At one restaurant. Yes, the robot waiter has been the promise of the future for decades. But just like humanoid robotics as a whole, it has yet to get past the novelty phase. It's nearly the year 2015 and sadly we're still waiting for robot waiters to go mainstream.
---
Artificial intelligence researchers have started looking to some of the simplest creatures for inspiration. Cyborgs who think like humans are still just a sci-fi dream, but scientists have had success recreating a less complicated brain. They have already created LEGO robot with the artificial mind of a worm.
---