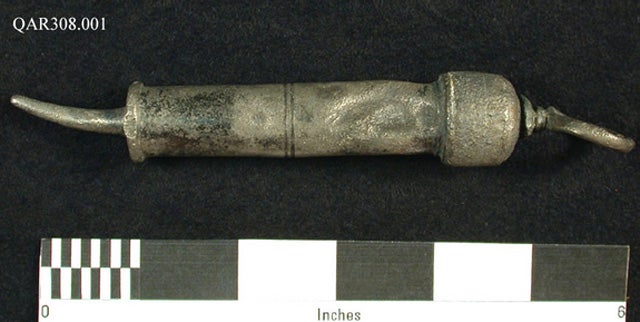 The jolly good life of a pirate was not a jolly healthy one, what with the syphilis and scurvy and ship-raiding. Archeologists excavating Blackbeard's flagship off the coast of North Carolina have unveiled their latest findings: a cache of medical instruments that include this rather horrifying urethral syringe.
---
The excitement for Google's Project Glass has been lukewarm at best, but apparently there are at least a few technophiles out there excited for the technology. Like Gregory McRoberts, who apparently couldn't wait for Google to finish its augmented reality specs, so he designed his own that's worn like an eyepatch.
---
In a continued effort to prevent ocean-bound ships from being attacked and overtaken by pirates, a pair of Japanese companies have developed what they're calling the Anti-Piracy Curtain. It uses high-powered water jets and flailing hoses to intimidate would-be attackers.
---
YAAAAAAAR, YESTERDAY BE TALK LIKE A PIRATE DAY, YE OLDE, FESTERING WENCH! AS SUCH, I WILL SHOUT ALL ME RANTINGS AND YOU'LL LIKE IT. IF THOU EVER HOPES TO GET SOME SEA LEGS, YOU'D BEST HEED THIS LIST.
---