Even though the majority of your work day is probably spent staring at a computer screen, somehow your desk gets cluttered faster than you can clean it. So following up on its Spartan-themed knife block, the talented and fully-digited woodworkers at Missing Digit Woodshop have created a desktop version that can now hold pens, pencils, styli, a letter opener, and even sticky notes.
---
If you've ever tried to create a set of holes through more than two pieces of paper using a hole punch, you realise how terribly designed those contraptions really are. But instead of re-engineering one from the ground up to work better, the folks at Toysmith found another way to make a hole punch more user-friendly with the addition of a padded punching bag on top.
---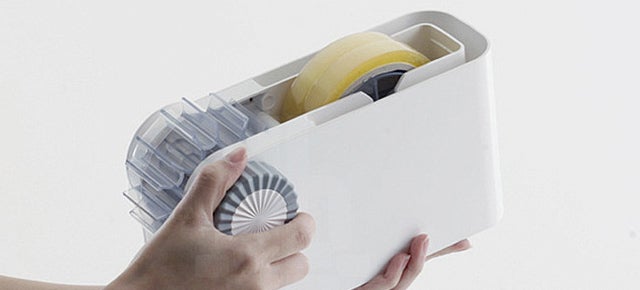 ---
At some point in a child's life they eventually make the connection that a long plastic ruler is not unlike the barrel of a gun, and suddenly maths homework gets a lot more enjoyable as they blast away at imaginary aliens between problems. The folks at Atypyk have taken that idea one step further with a pair of plastic toy ray guns that double as rulers and protractors.
---
It doesn't take much to convince a Star Trek fan to buy some Trek-related merchandise, but even non-Trekkies are going to find these fun paper clips hard to pass by. For $US20 (available sometime in July) this Trek-themed tin includes 20 paper clips shaped like the Starfleet delta insignia, and 20 paper clips shaped like the USS Enterprise.
---
Inspiration can strike anywhere, and if you're the type who needs to immediately write down their revelations, you might want to toss a few bucks towards Brandon Saw who's Kickstartering a simple non-permanent adhesive wrap that turns any flat surface into an erasable whiteboard. If brainstorming is your thing, you'll want to cover every inch of your office in this stuff.
---
Deep down we all know we're learning important things for when we're older, but that doesn't make school any less boring. And since most teachers maintain a strict 'no toys' policy, kids have to find other clever ways to make it through a school day — such as innocent-looking pair of erasers that are actually pullback race cars.
---
Despite its diminutive stance, this miniature garbage can from Vipp is fully functional. Touch the tiny pedal where you'd usually stomp your foot and the lid temporarily pops open letting you dispose of tiny bits of trash, or store pens, pencils, paper clips, and other bits of stuff floating around your desk.
---