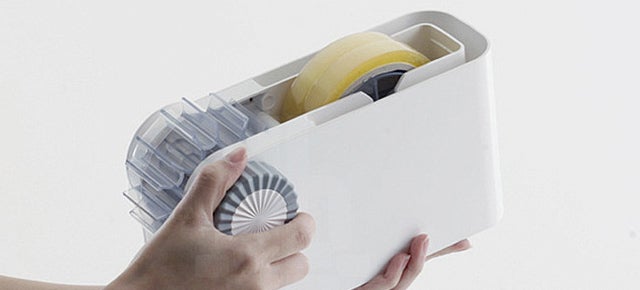 ---
At some point in a child's life they eventually make the connection that a long plastic ruler is not unlike the barrel of a gun, and suddenly maths homework gets a lot more enjoyable as they blast away at imaginary aliens between problems. The folks at Atypyk have taken that idea one step further with a pair of plastic toy ray guns that double as rulers and protractors.
---
It doesn't take much to convince a Star Trek fan to buy some Trek-related merchandise, but even non-Trekkies are going to find these fun paper clips hard to pass by. For $US20 (available sometime in July) this Trek-themed tin includes 20 paper clips shaped like the Starfleet delta insignia, and 20 paper clips shaped like the USS Enterprise.
---
Inspiration can strike anywhere, and if you're the type who needs to immediately write down their revelations, you might want to toss a few bucks towards Brandon Saw who's Kickstartering a simple non-permanent adhesive wrap that turns any flat surface into an erasable whiteboard. If brainstorming is your thing, you'll want to cover every inch of your office in this stuff.
---
Deep down we all know we're learning important things for when we're older, but that doesn't make school any less boring. And since most teachers maintain a strict 'no toys' policy, kids have to find other clever ways to make it through a school day — such as innocent-looking pair of erasers that are actually pullback race cars.
---
Despite its diminutive stance, this miniature garbage can from Vipp is fully functional. Touch the tiny pedal where you'd usually stomp your foot and the lid temporarily pops open letting you dispose of tiny bits of trash, or store pens, pencils, paper clips, and other bits of stuff floating around your desk.
---
The staple-free stapler isn't a new idea; they have been around for decades, locking pages together without the need for tiny metal clips. But older designs use a method where an unsightly hole is punched through your documents, unlike Kokuyo's clever new Harinacs stapler which simply crimps the corners to keep up to five pages securely attached to each other.
---
It might seem like a case of over-engineering, but there's no denying the thin pieces of lead used in mechanical pencils are prone to easily breaking. So instead of rolling our eyes at Zebra Co's new DelGuard pencils, which actually feature shock absorbers and retractable shields to prevent lead from breaking, we should be championing their innovation.
---