Nvidia's Tegra K1 is damned pretty for mobile tech, but the desktop team hasn't just been sitting around waiting for Tegra to catch up. Say hello to Maxwell — the new architecture on the desktop side — and the GTX 750Ti. It's a tiny little sucker that's worth its weight in watts.
---
When we sat down with the head of NVIDIA, Jen-Hsun Huang, at CES we only had one question on our mind: when will Australia get the NVIDIA Shield, and why has it taken so long? We got half an answer at least.
---
Here in Las Vegas at CES, Audi has showcased continued work on its self-driving 'piloted drive' efforts — currently housed in a stylish A7 concept car. While brains of the 'zFAS' system need the power to continually monitor surroundings and plan or control trajectory, Audi's engineers have shrunk the components down to the size of an iPad. The future is coming. Take a look…
---
Nvidia took to the fields to help publicise its new Tegra K1 chip, its first with a staggering 192 CUDA cores. The result is this deliciously geeky crop circle, cut into a field two hours south of San Francisco. [Nvidia]
---
Nvidia's kicking off this year's CES madness with the Tegra K1, the first Nvidia chip with freaking 192 CUDA cores. Does that sound like a desktop thing, not mobile? It sort of is. According to Nvidia this bridges the gap between Kepler-based desktop cards and the mobile-based Tegra chips. Not just Tegra 5 but like Tegra 5000. Yeah. It's a mobile chip with a desktop heart.
---
---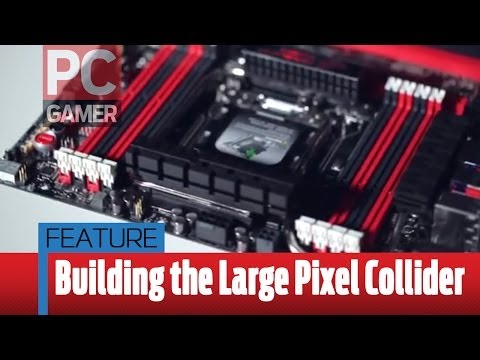 PC gamers have long looked down upon the paltry graphics offered by consoles, and now their cliff of smugness is about to rise even higher with the birth of the Large Pixel Collider: an immense gaming system with eye-watering specs.
---
---
Usual disclaimer about not trying this at home and all that, but if you were wondering if you could use the Nvidia Shield as a bulletproof vest and then still play with it later, the answer is yes! Well, as long as it gets shot through the screen. And as long as you're not actually using it as a literal shield.
---