Loading page
Computex 2016 is all this week in Taipei, Taiwan — and it's where you want to be if you're interested in all the new components and gadgets that you'll be using inside and around your gaming PC over the next year. All the major tech brands will have stands and exhibitions on show, with new technologies alongside PC overclocking and case modding competitions, as well as new peripherals like keyboards, mice and headsets. Here's what we know is coming, and what we're hoping for.
---
It's Computex week, which means one thing: it's time to talk tech. Computex is the largest technology trade show and vendor conference in the world, running for five days across various buildings, conference halls, VIP rooms and hotel suites throughout Taipei, Taiwan.
But this week's particularly important for gamers, because it marks the launch of the first generation of graphics cards on new manufacturing process. For NVIDIA, that means talking about Pascal. And for it's CEO Jen-Hsun Huang, that means talking about PC games.
---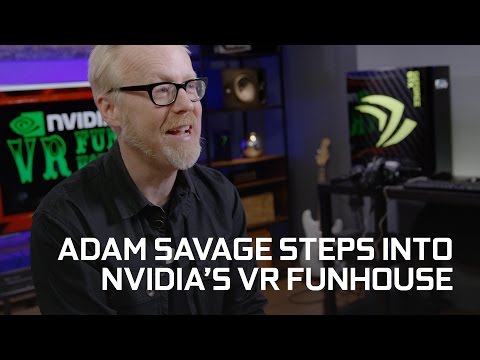 Video: Adam Savage from Mythbusters is a notorious geek — he's one of the brains behind technology website Tested.com, and as well as having a background in special effects and fabrication, he's also worked as an animator and graphic designer. On the launch of its new GeForce GTX 1080 graphics card, Nvidia put Savage inside its physics-accelerated Funhouse virtual reality tech demo.
---
As enthusiastic gamers, we don't usually give a lot of attention to pre-built gaming machines, especially desktop PCs — they're often out of date before they're launched, with inferior graphics and CPU options. HP's new Omen gaming desktop and laptops, and an accompanying 32-inch monitor, though, are impressively modern and might just make sense if you're looking to pick up a new PC to handle the next few years of gaming.
---
Nvidia's newest graphics card is — again — its most powerful, its most energy efficient, and its best for next-generation gaming in virtual reality and in Ultra HD resolutions. It's also surprisingly cheap internationally, and unsurprisingly expensive in Australia. But price aside, if you do happen to pick up a new GTX 1080-based card either from Nvidia or any of its manufacturing partners, you'll get yourself an extremely powerful and future-proofed card that also serves as a great bellweather for what will be a very important year in graphics technology.
---
Most of the specifications and performance-enhancing features of NVIDIA's Pascal GPUs, the GTX 1070 and 1080, are largely known by now. And we also know what the American prices of those chips will be.
But nobody knows precisely how much Aussies will be charged for the king of GPUs. And as it turns out, the answer is quite a lot.
---
Nvidia's second Pascal gaming graphics card is finally breaking cover, after only a quick mention at the launch of the top-spec GeForce GTX 1080. It'll be out two weeks after its slightly more powerful counterpart, but its significantly lower price should make it especially attractive to anyone gaming at sub-4K resolutions.
---
Today's the day. Reviews of Nvidia's newest, greatest and most powerful graphics card, the GeForce GTX 1080, are about to hit the 'net. But there's also more to this card than its raw performance data. Here's what's going on under the hood of Nvidia's big, bold attempt at cornering 4K and VR gaming in 2016.
---
Loading page