---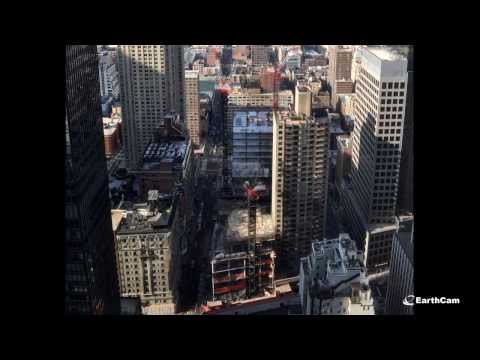 The only thing cooler than gawking at record-breaking architecture is watching record-breaking architecture get built. The tallest hotel in North America, a Marriott Residence Inn on top of a Marriott Courtyard, just opened in Times Square. This is what it took to build the tower.
---
---
The folks from Elysium Weddings took this neat picture of a snow-covered New York City from an aeroplane. You can see Manhattan in the middle, with Queens and a bit of Brooklyn on the top right corner and New Jersey on the bottom left corner.
---
As of last month, New York City's Sunset Park waterfront is home to the largest commingle recycling facility in the US. After its inaugural run on opening day, the facility shut down for some final tweaks and testing before it opens full time. During this period of maintenance, Gizmodo visited the new facility for a private tour of the process that materials go through in the new location.
---
The shimmering wall of windows that makes up Manhattan is breathtaking, and seems almost infinite. But Michael Pollak — the wizard behind The New York Times' "F.Y.I" series, which plumbs deep and weird questions about New York — got down to brass tacks this week, estimating how many windows are on the island.
---
In New York, the Fulton Street Transit Center currently being built in the Financial District of Manhattan is shaping up to be not only the biggest place to catch a train in the five boroughs, but also the coolest. Where normally you'd expect the MTA to build tunnels through the ground, at Fulton Street they've assembled one to the sky. The MTA released a time-lapse video and a new set of photos that show a massive net lined with reflectors being installed inside the $US1.4 billion dollar hub.
---
In 1881, longtime Harper's cartoonist Thomas Nast created this satirical sketch of what New York would look like by the turn of the century — lampooning new building technologies like the elevator and elevator break. By lambasting the race to build ever-higher, Nast foresaw the future of Lower Manhattan.
---