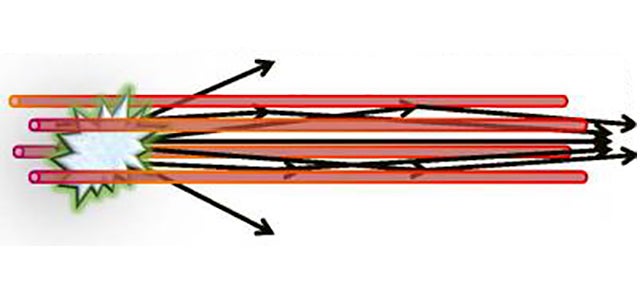 Pulses of light are the absolute fastest way to transfer data (because nothing's faster than light), but old school fibre optic cables can only go so many places. Scientists have a new idea: use high-powered lasers to make a column of low-density air that can carry a light signal just as well as a normal cable. Yes, fibre optics made of thin air.
---
For all intents and purposes, your home network's modem router is the nexus of all of your communications. It handles your 'net connection, as well as all your home devices talking to each other and the outside world . So when you're looking to buy one, you want all the features you can get, right? That's why the new FRITZ!Box 7490 should grab your attention.
---
---
---
Fibre to the node NBN is being rolled out to 1000 test sites across Australia, covering 200,000 homes and businesses. An independent tracking site has collated theoretical data from 69,000 premises to determine the average speed of FTTN in Oz so far — and that speed is 46Mbps. Not bad, but a long way from fibre to the premises.
---
For the uninitiated, Steve Dalby is iiNet's chief regulatory officer and enemy number one according to the content industry. He took to Reddit yesterday for a public Q&A, and lashed studios and distributors for their resistance towards online distribution.
---
---
200,000 homes and businesses across Queensland and New South Wales will be hooked up to the NBN using fibre to the node, under a $150 million deal between the government, NBN Co and Telstra. The large-scale trial will use 1000 nodes around regional parts of the two states, connecting supposedly underserved areas from the existing broadband plan.
---