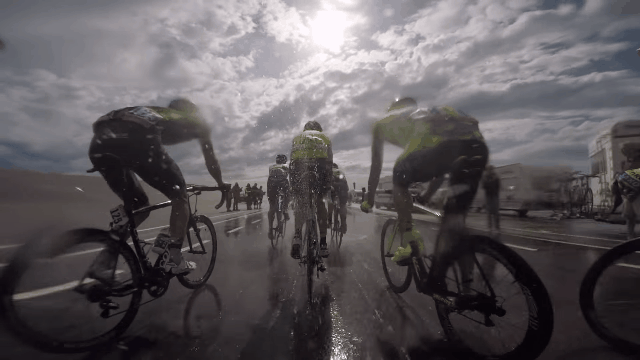 Early in the Tour de France this year, a horrible crash forced six riders to abandon — including one, Fabian Cancellara, who finished the day with two broken vertebrae. NBC reported that 400,000 people had streamed the day's racing through its app. GoPro footage of the aftermath, shot by a mechanic, quickly blew up too.
---
Well, we saw this coming: The explosive, cord-cutting popularity of Netflix will finally torch the laurels of traditional broadcast television networks. Analysts predict that if Netflix were measured as a 24-hour station by Nielsen, it would have more viewers than ABC, CBS, NBC and Fox within the year.
---
The year 2017: where everyone is two years older, skies are filled with drones, and Leslie Knope is President. Ok, maybe not that last one. But in season 7 of NBC's Parks and Recreation we'll know all the goings on of our favourite characters in the year 2017.
---
Charles and Ray Eames were the archetypal design power couple, who each brought their own distinct kind of creative genius to the personal and professional partnership. When they visited NBC's daytime Home show in 1956 to debut their (now-iconic) eponymous lounge, Charles introduced themselves thusly: "Ray is a painter. I am an architect." Host Arlene Francis has a slightly different take: "Almost always when there is a successful man, there is a very interesting and able woman behind him."
---
Those hoping for the debut of Mr Egypt or Intensive Karen may have gotten their wishes granted, with NBC calling it quits on sitcom Community after five seasons. Despite losing its way in earlier seasons, the latest block of 13 episodes were quality, mostly thanks to creator Dan Harmon coming back on board. Sadly, it wasn't enough to right the ship.
---
Maybe one night, as you scuttled darkly across the fringes of the internet, you came across a site like CocoaJuggs.net. Or LuvInaBarnyard.org. Maybe even PrisonMate.net. But when you clicked, you were met not with the lurid promises of the URL, but rather by the smiling faces of SNL cast members. Had you discovered a wormhole in the web? Nah. Just another pervy-sounding NBC property.
---
It's been about a year since Tim Cook took the helm at Apple, and he has apparently decided now is a good time to start talking to people. Brian Williams got first dibs, interviewing Cook earlier today on NBC's Rock Center.
---
Men and women in uniform got the total shaft on Olympics coverage this year. Like everyone else, active duty members of the armed forces and other agencies overseas have to watch NBC's infuriating tape-delayed broadcasts. Even if they're on bases in Europe, where they could otherwise watch the events live on local TV.
---
Guy Adams has had a hell of a week. He's covering the Olympics at the moment and had a few choice things to say about NBC's coverage of the games. Those choice comments included email address of the president of NBC Sports, Gary Zenkel. NBC didn't like that too much, and as a result, Adams was kicked off Twitter for a spell. It has been revealed today, however, that Twitter actively conspired to have Adams removed from the social network thanks to his criticism of NBC. How did it all go down?
---