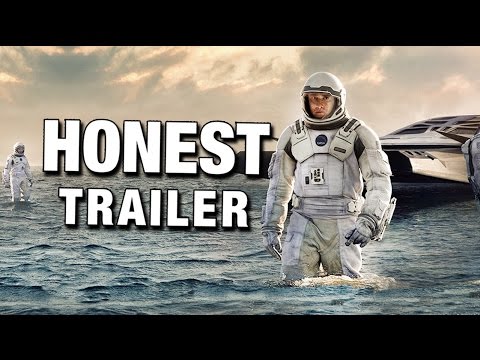 I love watching Honest Trailers' takedown of movies because they highlight actual problems, they're actually really funny and they have no sacred cows. They can skewer Michael Bay right next to burning down everyone's post-Dark Knight shrine to Chris Nolan. Here they are hilariously ripping up Interstellar.
---
Video: Ethan Jones is back with another interesting visual breakdown of movie logos, this time focusing on DreamWorks. You know that intro sequence, where a fishing line gets dropped into the water from a boy on the moon. Here are all the variations that have popped up in DreamWorks movies since they first started using the logo in 1997.
---
Cars in movies, car chase scenes in action flicks and action flicks about cars and car chase scenes are almost always fun to watch. That's why cars like the DeLorean and movies like The Fast and the Furious live on forever in our memories. CineFix made an ode to all your favourite car scenes in this latest movie mashup.
---
Our favourite TV show characters and movie stars and cartoons are often remembered for how they look. The outfits they wear, the cars they drive, the weapons they use, the swagger they carry and the hairstyle they have. Here's an infographic showing 65 different famous hairstyles.
---
Video: Watching this cool mashup of 98 famous movie fights totally unleashed my inner teenager. It makes me want to get my old high school friends together for a daylong kung fu movie marathon — in VHS if possible. The only thing that bothered me about the clip is the annoying music. That's one thing I'll never miss about the '90s.
---
Video: Though I understand its problems, I still enjoyed the visual ride that was Interstellar. Still, the best thing about the movie might have been the TARS and CASE moving monolith robot machines. Here's a behind the scenes clip that shows how the practical effects of TARS and CASE were made and how they were controlled and moved and given life by puppeteers.
---
Ever since the Walt Disney Pictures logo debuted before The Black Cauldron in 1985, Disney has been tweaking and re-styling and creating multiple variations of the iconic magic castle logo that pops up right before its movies. For a while it's a simple 2D logo stamped on a blue background but eventually it turned 3D with fireworks and a whole mess of effects.
---
Here's a fun thought exercise for those who partake in late night debates assisted by junk food and a lifting sense of clarity: which action movie star has killed more people in their movies? Is it Arnold or Sylvester? Stallone or Schwarzenegger? This video totals up all the deaths that Sly is responsible for and we can directly compare it to Ahnold.
---
Video: Movies are already not real (and often ask you to suspend your disbelief) so when you see a character start dreaming in movies, well, you know things are about to get weird. Here's a supercut of those weird scenes from Dreamscience that features iconic dream sequences from movies like American Beauty, Inception, Eternal Sunshine and more.
---
Depending on how fun you are at parties, the Fast & the Furious movie franchise got undeniably fun sometime during the fourth or fifth movie (or first for the furiously fast). And then they transformed into awesome heist movies with crazy special effects and a revolving door of big action movie stars. The seventh one is coming soon.
---