When a radio station in Norwich, England, is taken over by a shotgun-wielding, past-his-prime DJ who's disgruntled after being let go, only one man can reason with him: Alan Partridge. Steve Coogan is back as everyone's favourite self-involved, bumbling British broadcaster in this very funny feature-length film.
---
Australia needs more movie streaming services, sure, but what it needs more is services that carry decent film titles. The worst case would be having a flagship service launch with no content! Thankfully, Dendy's upcoming movie streaming service for Australia will have some great titles from major studio players.
---
Video: CineFix has cooked up a list showing off the top 10 movie stunts of all time. They're all fantastic and involve groundbreaking scenes where actors fight and jump off buildings, stuntmen fly, cars flip over and everyone defies death. They're all ridiculous stunts that are epically unreal in scale but manage to make your palms sweaty and heart pound when you watch them.
---
On one hand, having a movie trailer be better than a movie means you don't need to watch the movie. On the other hand, having a movie trailer be better than a movie means when you watch the movie you walk away with all-consuming disappointment. Here are 10 movie trailers that were better than the movie.
---
The first full trailer for Disney's upcoming superhero movie, Big Hero 6, came out today. If you're like me, it raised all sorts of questions. Questions like "What is this?" Here's a rundown of the basics so you can be a Big Hero 6-pert when it comes out in theatres on December 26.
---
Here's the first trailer for Disney's Big Hero 6, an animated superhero movie lightly based on the Marvel comic series by the same name. The visual style is straight up Pixar, with action scenes that look equal parts Incredibles and Iron Man.
---
The new film Algorithm tracks the travails of Will, a freelance computer hacker who "breaks into a top-secret government contractor and downloads all their recently developed programs". Like the subjects it tackles, the film has a tech-forward business model that make it more like a startup than a cinematic feature: It's free today only.
---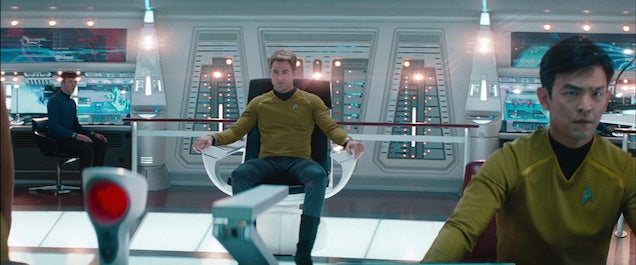 With some directors, you can immediately tell you're watching a movie they directed just by looking at a still frame without any context. There's a visual style they stamp on their films, a certain special effect they like, a narrative preference they utilise, basically, a trademark they have. WatchMojo came up with a list of the 10 most famous movie director trademarks in the video below.
---
If you have been on the internet for at least a few months, you probably came across a version of the animated GIF below (warning: NSFW). You may be wondering a) where the hell does this exploding head come from or b) how the hell did they do it? The answer to a) is David Cronenberg's Scanners — and here's the answer to b.
---