Loading page
Keys is a MIDI keyboard, built with aspiring piano students in mind. It's a pretty small guy, making it a great travelling companion (who says you can't play a keyboard by the campfire?). But the coolest thing about Keys is it incorporates gestures — so you can travel up and down octaves by just waving your hands.
---
Audiophiles have a laundry list of reasons why you should be buying your music on vinyl, but with DJ Qbert's new album Extraterrestria, aspiring turntablists now have a reason to skip the MP3s too. Using printed MIDI technology from a company called Novalia, the artwork in the vinyl's sleeve doubles as a DJ controller for Algoriddim's djay iOS app.
---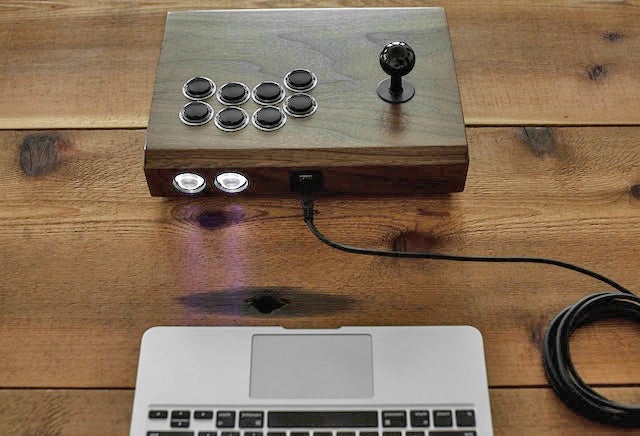 In the music video for his aptly-named track Arcade, M4SONIC is seen playing a custom-made arcade-style joystick that's actually a MIDI instrument. Instead of using a piano keyboard, or a rhythm pad filled with countless buttons to trigger MIDI samples, this creation let M4SONIC channel his childhood Street Fighter and Mortal Kombat skills into his music.
---
YouTube is about to hit peak saturation on those 'old computer hardware plays random song' videos thanks to Simon Schoar's RumbleRail. Instead of random components all hastily hacked together, it lets anyone build a rather elegant-looking floppy disk jukebox that plays any MIDI file from an SD card.
---
Inexpensive, portable hardware for electronic music usually comes short on the features. A beginner 25-key MIDI keyboard, for example, isn't going to get you very far towards making big music, even if it does fit in your backpack. Arturia's new Beatstep is remarkable because manages to put both a software controller and an versatile sequencer in one portable package, all for $US125.
---
DJ TechTools has updated its arcade button Midi Fighter midi controller with a 3D gyroscope allowing parameters like pitch and volume to be controlled by simply moving it about. But only DJs with a penchant for performing might be interested.
---
Forget about using keys, buttons, knobs or pads on a MIDI device. With the Pulse Surface Controller, you create sounds by banging on your desk, computer, or anything, really.
---
It's easy to make fun of Guitar Hero now that the craze is over, but one thing is for sure: It created a new enthusiasm for the guitar as an instrument, in these days of DJs and remix artists. We've seen a rash of startlingly innovative new ways to teach people how to play the guitar, from the Rock Prodigy series to Wild Chords. Those are great, but Tabber could be better.
---
Akai's original MPC revolutionised music forever by combining all of the tools a producer needs — a sampler, mixer, multi-track recorder and editor — in one device. The new ultra-portable iPad version of the hardware might do the same thing for a new generation.
---
The iPad offers great promise in terms of music making, and I'm not talking about karaoke or strange virtual guitar concepts: artists like Gorrilaz have managed to record full songs using them. Now you can, too, thanks to Griffin.
---
Loading page