Common sense dictates that the brighter the lights on your bike are, the more visible you'll be to other traffic at night. But according to research from the University of Oxford's Experimental Psychology Lab, a glowing version of the universal symbol for a bike rider could actually a better way to make drivers aware of your presence.
---
This ethereal little lamp is the latest creation of visionary lighting designer Ingo Maurer. Made of transparent film mounted with LEDs, Dew Drops adds flowing curves and a soft glow to any room. From certain angles, it almost looks like a grid of tiny stars, peeled back and draped into your wall or desk.
---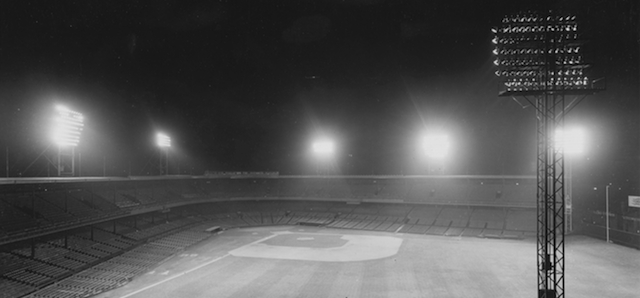 ---
Yes David, this is real life. This really happened last May at the Infrasound Festival when Tipper took the stage, backed by Android Jones' visuals.
---
There are 42 tower cranes working together to build a brand new city district for more than 20,000 people in Vienna, Austria. It's the biggest construction site in Europe right now. But it's not always work work work for the cranes, they get to dance in a fun light show on their off day.
---
---
Despite what the classic video game Paperboy taught us, the biggest threat to cyclists isn't dogs, RC cars, or random rolling tyres, but the drivers they share the road with. So in addition to ensuring they're definitely seen, the Fly6 bike light includes a constantly recording video camera designed to keep drivers behind a cyclist on their best behaviour.
---
Ooh, lights. Pretty. It's like stepping into an enchanted forest from the future. Romain Tardy and Squeaky Lobster created this installation called The Ark during Proyecta Oaxaca at the Ethnobotanical Garden in Oaxaca, Mexico. It's built around the cacti that line the heart of the garden and the installation projects lights onto it and gives voice to the plants.
---