Skynet comes across as a resourceful artificial intelligence. After all, if it's clever enough to send someone back in time to wipe out an enemy before they're born, it's not hard to believe it could see the potential in Lego Technic when it comes to building an army.
---
It's not quite as exciting as free-falling from the edge of space, but a group of 80 Lego enthusiasts in Denmark, led by Henrik Ludvigsen, now hold the Guinness Record for the world's longest plastic toy train track — an honour that will certainly look fantastic on a resume.
---
---
Be honest, when was the last time you actually listened to a CD? Granted, it's not exactly hard to throw one into the drive; it's just that streaming is soooo much easier. Well with just a little bit of help from LEGO, a tinkerer named Ralph gave his CD collection a second chance at usefulness.
---
Daft Punk's next official album, Random Access Memories, drops in just over a couple of weeks, which might as well be an eternity for die-hard fans. But while I'm as excited as anyone for the duo's next outing, I have to say I'm even more excited by these unofficial Daft Punk Lego minifigs.
---
Well, it was only a matter of time before someone mashed up an icon of German engineering with an icon of the Galactic Empire. Semiotically speaking, there's something hilariously appropriate about this hack by Craig Callum, a Denmark-based LEGO design lead who gets to dream up new sets for a living.
---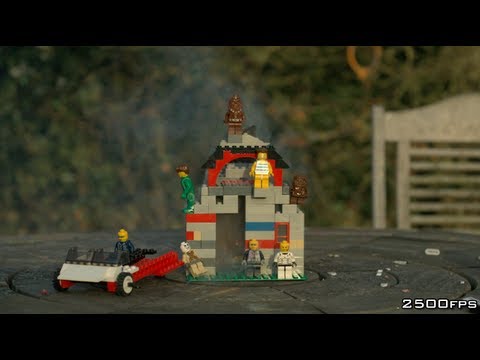 Those crazy Slow-Mo guys are destroying anything they can possibly get their hands on this week. Today, it's a house made from LEGO. And though explosions are almost always a delicious visual treat, especially in slow motion, blowing up LEGO should never make anyone happy. Thankfully, LEGO bricks can totally withstand a banger.
---