Loading page
Video: Yesterday was supposed to be all about the Oscars on Jimmy Kimmel Live but, really, it was all about Batman v Superman. The host had Ben Affleck on to talk about the movie, premiered a new clip and showed this special "deleted scene" from the film.
---
Video: Thank God US President Barack Obama doesn't have a Google Alert set up with his name on it: the amount of crap he'd read about himself would be off the charts. Jimmy Kimmel has instead nabbed a few mean tweets and got the President in to read them. He's so salty about it, too.
---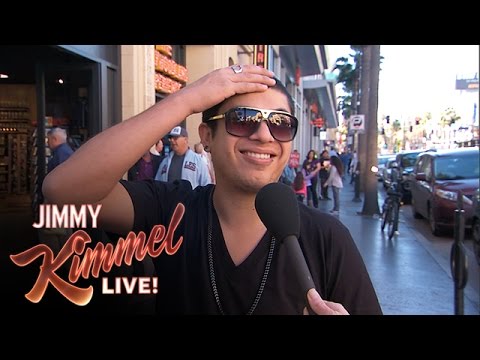 ---
Black Friday has become as much an American holiday tradition as decking the halls, trimming the tree or watching football. So it only makes sense that Ken Burns' latest documentary, courtesy of Jimmy Kimmel, tells the story of the nation's very first unofficial shopping holiday that followed the first Thanksgiving.
---
Apple's iWatch is a wonderful amazing revolutionary product that does not exist. But it feels like it's just around the corner, doesn't it? Like it's hiding in plain sight. Which is why it's hilarious to watch Jimmy Kimmel dupe people into thinking a dummy Casio is Apple's rumoured smartwatch.
---
Apple unveiled two new iPads yesterday, and regardless of what new bells and whistles they're packing, people will inevitably ooh and ahh over them, and buy the fresh tablets by millions. Which brings up a question: What if Apple's announcement was completely BS-free?
---
iOS 7 is allegedly making some people sick to the point of puking. But Jimmy Kimmel has come to the rescue with the perfect cure: stop looking at your phone all the damn time.
---
It's one of the oldest tricks in the book, but Jimmy Kimmel gave people on the street the iPad Mini and told them it was the new iPhone. Naturally, these poor, unsuspecting folks bought it hook, line and sinker.
---
Harrison Ford and Chewbacca used to be such firm friends. They worked together for years, but now they've had their second public spat in as many years at each other live on Jimmy Kimmel's late night talk show.
---
Loading page