When it comes to cup holders, most of us are just looking for a place to secure our drinks while we're driving. It turns out we should be asking more of them — a lot more. Maksim Ghyvoronsky has invented a better alternative, an aftermarket set of cup holders that tilt and roll along with the motion of your vehicle, ensuring that nothing ever spills no matter how awful a driver you are.
---
Crowdfunding isn't the same as preordering. It's a gamble at best. And with the Keryos Meteor coming out as one of the biggest crowdfunding fails in recent memory, we got to thinking: What other crowdfunding disasters have managed to slip under the radar?
--- You probably have a friend that doesn't feel safe in their neighbourhood at night. It might even be you that doesn't feel all that secure when roaming the streets. You might have a small knife, pepper spray or even a gun in your backpack, satchel or purse to deter potential assailants. If any of this rings a bell, you might want to consider backing The Defender: a "smart personal protection device" designed to keep you safe in dangerous situations.
---
Using a scientific phenomenon known as the Peltier-Seebeck or thermoelectric effect, where a voltage is produced via a device with contrasting temperatures, this Bluetooth speaker called the Pelty can run on nothing but burning candles. So the next time you lose power during a brownout, you'll have both light and entertainment to pass the time.
---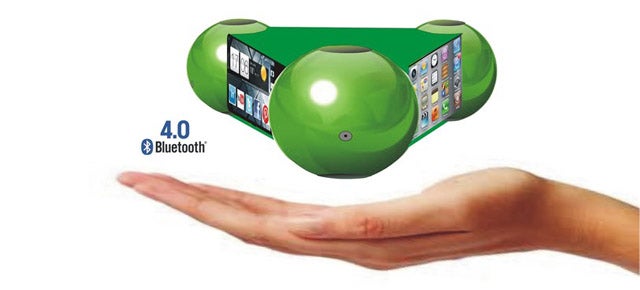 ---
Successful baking requires strict adherence to a recipe and precise measurements, which is made easier with a scale at your disposal. But if the last thing you want is another ugly appliance cluttering up your kitchen counters, feast your eyes on the lovely GKILO scale (pronounced kilo) which when not in use looks like another wooden cutting board.
---
The touchscreen generation might not know any better, but those of us who grew up with Game Boys know that physical control pads and buttons will always trump on-screen alternatives. Entire this slide-on silicone sleeve, called the G-PAD, that turns your smartphone into an even better handheld gaming machine.
---
If you've yet to find a bathroom towel large enough to suitably dry you after a shower, the solution could be as simple as standing on this unique bathroom accessory for about half-a-minute. It looks like a weigh scale, but it's actually a dryer that blasts you with warm air to quickly and thoroughly dry you without the need for a towel.
---
About a year ago we brought news of a Power Glove themed oven mitt that had anyone who grew up playing the NES excited to do some baking. But that version was made of heatproof fabric and while it looked convincing enough, it can't hold a candle — or a hot tray of cookies — to this amazingly detailed silicone Power Glove oven mitt.
---