---
Remember those South Australian anti-video gaming ads? We all know they're stupid, and now they've rumbled Australia's games industry lobby. So much so that the lobby group is now straight-up demanding that they be pulled down.
---
You may have seen this ad floating around your social media channels this morning. Just take a second to read it, because if you're an adult gamer, it will probably see you spit out your corn flakes. What you don't know about the image is the broader campaign behind it, and the South Australian government appearing to say one thing while doing another, systematically demonising video games and those who play them.
---
Because Florida was hastily attached to America to be the butt of her jokes, this latest piece of ridiculousness should come as no surprise: Florida might have accidentally banned all computers and smartphones. How? It all stems from a poorly worded bill that banned internet cafes and slot machines.
---
Gambling might be risky, but not if you know you're going to win. Then it's just free money. If that sounds up your alley, conman extraordinaire Richard Wiseman has yet another set of "bets" for you to try out on your friends. The ones that won't assault when they get wise to what you're up to anyway.
---
---
Anyone who has ever walked into a casino has felt the lure of the slot machine. The bright lights, inviting little stools, and the promise of hitting the elusive jackpot are ever-present. It's hard to avoid, no matter what logic tells you about the terrible odds. This Cool Hunting video shows just how involved the development of those enticing machines can be.
---
Australia's biggest casino was taken for $32 million, when its own security cameras were used against it by a high-roller who managed to hijack the surveillance systems.
---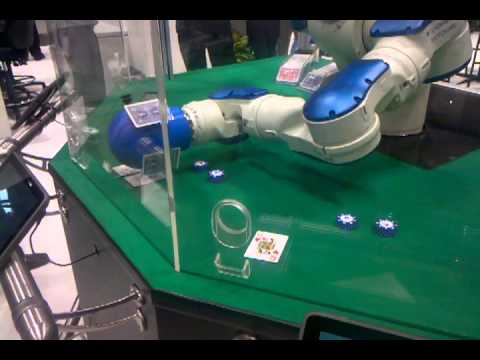 If you thought Dustin Hoffman's Rain Man character took a cold, calculating approach to gambling, he's got nothing on Yaskawa Motoman Robotics' new SDA10F blackjack dealing robot. Using a sophisticated vision system it's even able to recognise the cards it's dealing, so casinos could still use their standard Bicycle decks.
---