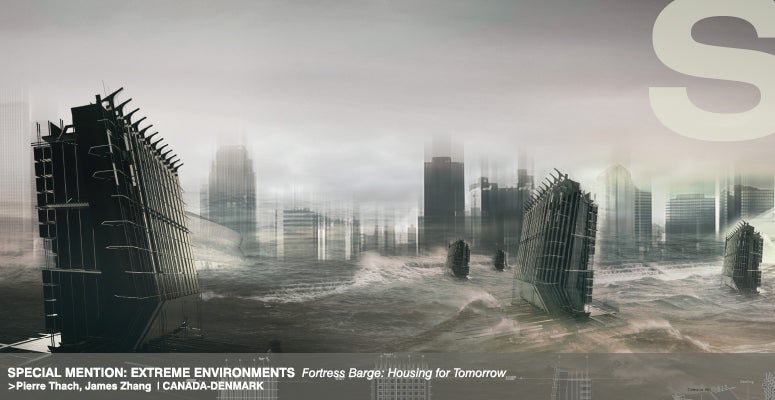 Admit it; you've thought about life in the far flung, alien future. Maybe you've thought about it today, whether it's a skyscraping utopia or a scarred nuclear desert full of mobile monoliths. Artists and architects are thinking about it too, and their visions of what may come will really get your future fantasies cooking.
---
Do you hate rats? If so, you're not going to like what Dr Jan Zalasiewicz, a University of Leicester paleobiologist, has to say about the future of Earth. This week, Dr Zalasiewicz reported on the heartiness — and ambitiousness — of rats, explaining how our rapidly changing planet is soon going to be filled with gigantic, super-evolved rodents. And, like most things that go wrong around here, it's all our fault.
---
For real. I know that we've heard it so many times that the phrase has become a tired cliché. But now, for the first time, we are seeing it: Games that can be confused with reality using devices that make our brains believe we are immersed in that reality. Just watch this trailer.
---
The 10th anniversary of Concorde's last flight sadly means it's been a decade since your average (albeit wealthy) Joe could travel faster than the speed of sound. Although Concorde isn't going to be taking off any time soon, these supersonic concepts might fill that sonic-boom sized hole in your heart — and for a damn sight cheaper, too.
---
This incredible photo of a SR-71 Blackbird being refueled in mid-air was taken by Sgt. P.A. Tubridy in 1988. It was the symbol of the United States' military power. It was the symbol of the country's incredible technological prowess. Now, it represents the future that we used to dream of — and make. A future that feels gone forever.
---
London-based designer and researcher Shamees Aden has a vision for the future of footwear. It's a future where shoes are 3D printed out of synthetic biological material that responds to your every step and can regenerate overnight. She's even made a prototype.
---
Holy. Crap. We see a lot of cool stuff around the 'net, but this is by far one of the coolest: MIT has invented a display-like gadget that sits on your desk and renders 3D content based on wireframe models beamed to it from Kinect. It lets you touch things without really being there, and it's a must-see.
---