Loading page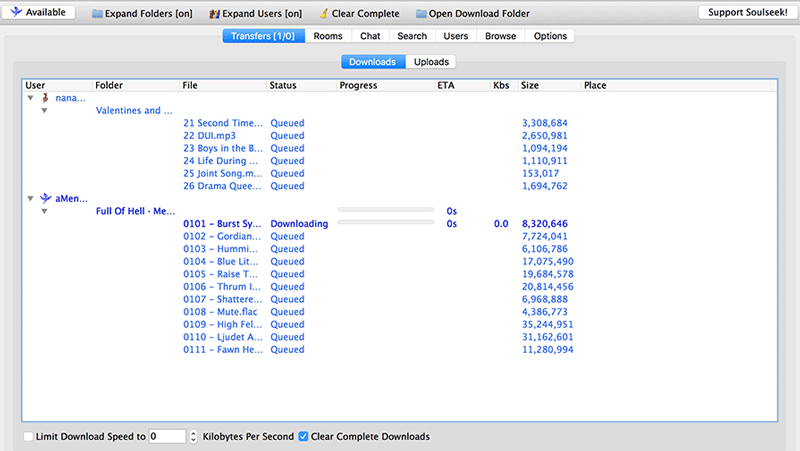 The lifespan of software is a curious thing. Unless a program is deemed irreplaceable by an industry (like Photoshop), most die out or are succeeded by a better — or cheaper — option a few years later. Even games, outside of retro collectors' items or unicorn hits (Diablo II), lose steam. After the downfall of Napster, Kazaa, Limewire and the rest of the early file-sharing clients, most people assumed that single source peer-to-peer (P2P) piracy programs — the kind where you download music or other files from exactly one user — died out. But one of them, Soulseek, weathered three of file-sharing's mass extinctions, and has quietly remained one of the best sources of obscure music.
---
It's hard to say exactly when I learned how to steal music. At first, I think it happened when I learned how to torrent. Then I recall my late nights with Napster. But if I really think hard about it, I remember middle school and Columbia House and that incredible eight CDs for a penny deal. That's when I started stealing.
---
I'm really surprised that Dropbox didn't already offer this feature, but the file-sharing service now allows comments on its shared files, just like Google Drive. This'll make it a lot easier to add context or ask questions about files you're sharing in a group.
---
Thanks to an $US80 million lawsuit between Hotfile and the MPAA, a judge just ordered Warner Brothers to unseal records that explained the inner workings of their super secretive system to takedown pirated content. Now, the secret's out, and the secret is "robots."
---
Piracy is a dangerous game. You never know if the hosts are out to get money, or maybe just out to get you. Turns out the guy who ran a pirate haven called Uploader Talk was the latter. Now, after a year of stealing uploader's info from deep cover, the jig is up.
---
Remember Bump, that nifty little app that let you transfer data from phone to phone — or phone to computer — with a handy little NFC-free bump? Well now it belongs to Google.
---
File sharing site The Pirate Bay set sail 10 years ago. While the site and its founders have had plenty oflegal trouble along the way, like Keith Richards, they refuse to abandon ship. They're marking a decade of file plundering with a typically typo-laden decree and a new way to circumnavigate torrent blockades.
---
---
Loading page