You may have heard about the Federal Aviation Administration (FAA) quietly declaring that this year's Super Bowl will be a "no drone zone." You may not have heard just how big that no drone zone will be. It's 60 miles wide. The no drone zone is larger than the city of Phoenix. Seems a little bit absurd, huh?
---
Back in 2011, a man called Raphael Pirker 'recklessly' flew his 2.2kg foam aeroplane around the University of Virginia without hurting anyone, an act the FAA thought worthy of a $US10,000 fine. A few years of wasted court time later, and both parties have agreed to settle for $US1100.
---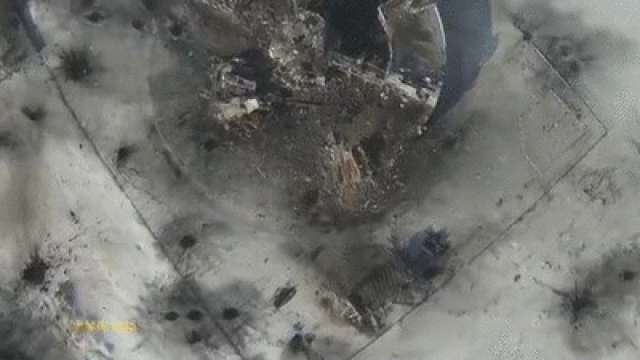 On Friday, 16 January, The New York Times published a report detailing Ukrainian rebels' conflict to seize the Donetsk airport, now a bombed-out shell of its former self. Although the Ukrainian Army says it's rebuffed the attack, it would have been the rebels' first major advance in months since the cease fire on Sept. 5.
---
Friday was a big day at the drone testing facility in Boulder City, Nevada. It was the day that the first drone authorised to fly without FAA approval would take to the air. The bright orange unmanned aircraft, Magpie, did just that — and then it crashed to the ground in an embarrassing cloud of dust two seconds later.
---
It looks like we'll have to wait a few more years before order can be restored to a sky increasingly full of drones. Despite having set a deadline for September 2015, the US Aviation Administration admitted it's going to take even longer than expected to finish its rules for commercial drones. The Government Accountability Office now says the rules won't be done until 2017 — at the earliest.
---
BBC News is reporting that the Civil Aviation Authority (CAA) has confirmed that another (stupid) amateur drone pilot almost hit an Airbus A320 as it was landing at Heathrow Airport on July 22nd, threatening the lives of nearly 180 people on board.
---
Drones have a privacy problem. As more and more domestic drones take flight in the United States, more and more people are worried that these airborne cameras will be peeking in their windows and watching them drive around town — and rightfully so. Yet the federal agency overseeing the growing industry apparently doesn't think this is a pressing concern.
---