Airport security checkpoint lines are the very definition of a "necessary evil". Everyone hates the long waits and the awkward disrobing dances as you rid yourself of all your shoes, smartphones, metal, etc. Yet, we're eternally grateful when crazy people with samurai swords don't fly coach. Now, a new breakthrough in nanotechnology could help ease our collective dread for airport security, at least a little bit.
---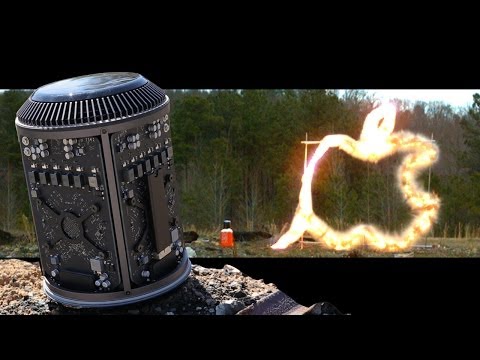 RatedRR has taken their gadget torture from shooting at things to blowing them with C4 — a plastic explosive — and detonation cord. The victim will make Apple fanboys weep: A new shiny Mac Pro. The results are obviously spectacular — but perhaps even more impressive is how hard the Mac Pro is.
---
Video: BOOM! That's what happens when you load 74.4kg of tannerite, the aluminium and ammonium nitrate explosive used in exploding targets, inside a barn you want levelled. Fire at the tannerite with a rifle and take cover — bye bye, barn.
---
If you're hunting for the perfect dessert that will leave a lasting impression on your dinner guests, look no further than this recipe/experiment. The ingredients in a typical pie aren't that far off from a chemical mix known as Rocket Candy that's typically made from sugar and an oxidiser like potassium nitrate.
---
Just in case you were still being fooled into thinking that the TSA is good for, well, anything, follow along with YouTube contributor Terminal Cornucopia as he constructs a home-made "FRAGGuccino" from stuff you can buy from airport terminal kiosks — you know the ones you can enter after passing through security.
---
When you're too old to go trick-or-treating, and don't have any kids to go on your behalf, Halloween stops being as fun as it was when you were young. But don't worry — there are still plenty of ways to bring a little grownup fun back to October 31. For example, carving a pumpkin is considerably more awesome when you add some light explosives into the mix.
---
Now I wish I had the genius and brass ones to think of this at a party.
---
Because my imagination is trapped within the confines of my human pea brain, I always giggle to myself when I see dogs sniff anything and everything they run into. But dogs have 50 times more olfactory cells than we do! Of course, they would put it to good use. And of course our human pea brains would put a dog's nose to good use in finding bombs. How do we train man's best friends to find explosives?
---