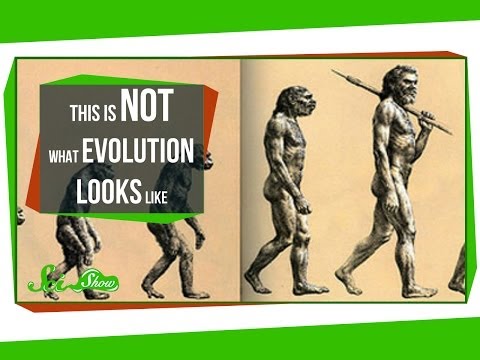 There's an iconic scientific image which depicts evolution, and it suggests that we went from monkey to man in six easy steps. The only problem is that's kinda bull.
---
It's one of those things you've probably idly wondered but never really lent masses of thought: What the hell would the planet be like if humans had never existed? Fortunately, this video tries to explain.
---
---
---
Just like the products and services they sell, company logos have a tendency to change over time. In this series of animations by Nick DiLallo, you can see how the logos of six big firms have changed over the years. Update: The videos have been removed from YouTube.
---
As babies, it doesn't take long for us to realise that — as fun as it is to grab on to everything within our reach — it's even more fun to chuck those things as far and as hard as we can. And now, thanks to a new study, we know the reason behind that delightfully destructive pitcher's instinct — and it all started with Homo erectus almost two million years ago.
---
It makes sense that an animal might hid away in the ground while it's maturing, but 17 years is a long, seemingly random amount of time. But it's not like cicadas picked a number out of hate and were stuck with it. There's a something specific about that number, and numberphile is sussing it out.
---
A lot has happened since 2007. Just look at how much the iPhone home screen has changed. Or how little it has? Back in the days of the first iPhone (it wasn't even called iOS yet), we couldn't get third party apps or even move apps around. Now, we have a bigger screen and all these funktastic icons.
---
In a laboratory tucked away in a corner of the Cornell University campus, Hod Lipson's robots are evolving. He has already produced a self-aware robot that is able to gather information about itself as it learns to walk. Like a Toy Story character, it sits in a cubby surrounded by other former laboratory stars.
---
---