The Moka Pot is one of the most time-honoured — yet often misunderstood — ways to make coffee. It's also one of the most recognisable kitchen gadgets, thanks to the ubiquitous Italian design left largely unchanged since 1933. A new collaboration between Blue Bottle Coffee and designer Joey Roth revamps the Moka Pot with a brand-new and pretty-dang-beautiful design.
---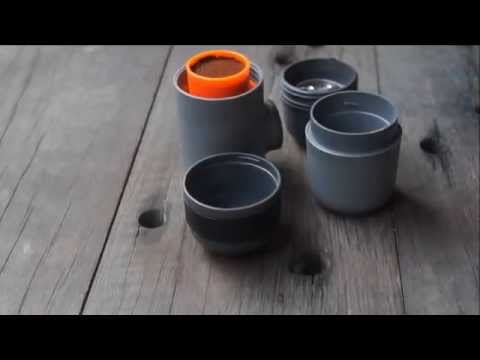 As addictive mind-altering substances go, coffee is actually pretty hard to hit up on the move. If you're out of range of a Starbucks, getting a hot, caffeine-rich epsresso generally requires a 20-pound machine and mains electricity, which is exactly the first-world problem this dinky espresso machine exists to tackle.
---
Dominique Ansel, the Willy Wonka of desserts and creator of the Cronut, has announced his latest imagination busting, tastebud oozing creation: The Waffogato. It takes the delicious affogato, which is basically ice cream topped with espresso, but remixes it by making the ice cream a waffle made from ice cream and mixed with Belgium waffle bits, tapioca balls and a bit of salt.
---
Normally coffee gets you all hyped up, but this slow motion footage of an espresso shot being pulled is so relaxing I can hardly take my eyes off it.
---
Behind the veneer of bearded hipsters that floods the world of high-end coffee lies an intricate field of science, gadgetry and taste requiring years of experience to master. Counter Culture is at the forefront of coffee education, and its new NYC training centre is the apex of techniques and technology.
---
Espresso is a mysterious drink. Not many people really know what it really is, how it's made, or even what it should taste like. We've all been lured into a haze of misunderstanding and misinformation by the likes of Starbucks, Nespresso, Krups and countless other brands looking to make espresso easy and cheap. Don't take the bait. Espresso, done right, is wonderful. Here's how the best in the business do it.
---
The last thing you want to hear in the morning is noise. But when that noise comes from a beloved espresso machine? Combined with that sweet smell of coffee beans? That's sweet cup music for every morning.
---
Coffee in the US has a bad rep, but if you walk into a good coffee shop that serves espresso, you will likely see a machine from one of these companies sitting on the bar: La Marzocco, Synesso or just maybe, Slayer. And they basically all come from one place: Seattle. I took a trip behind the scenes a little while ago and filmed a bunch of cool stuff.
---