It's a real bummer to hear that 150 years of industrialisation wrecked the Earth so bad that it will take thousands to recover. It's a much bigger bummer to see the situation in real life. That's exactly what's happening in a large number of Canada's lakes, which are turning into jelly thanks to acid rain.
---
Let's cross our fingers and hope that we never experience this, but what would happen if every human on the planet was eradicated?
---
Off the coast of Southern California, there's an underwater city. A thicket of almost 30 enormous steel oil rigs, each as large as a skyscraper, bolted to the floor of the ocean. Most of them are elderly, ageing giants — and soon, the state will need to make a decision about whether to rip them up or let them stand. Either option comes with huge risks.
---
We all know what havoc plastic wreaks on our environment. When it's not running off into our lakes and choking fish, it's fusing with sand, wood and natural debris and forming permanent litter that will far outlast us. Wouldn't it be great it we could make biodegradable plastic out of agriculture waste? Turns out we can.
---
If you live in an old city surrounded by history, chances are you also live with hundreds if not thousands of gas leaks all around you. It's bad for you (think explosions) and bad for the environment (think global warming), so we should probably do something about it. That's why Google Street View and the Environmental Defence Fund (EDF) have teamed up to map methane leaks in cities.
---
China is on a giant building spree and nothing is going to stop it — not even mountains. Entire mountaintops are being razed to fill in valleys, paving the way for future cities. The problem is that no one really knows what they're doing. "[E]arth-moving on this scale without scientific support is folly," warn three Chinese engineering professors in Nature.
---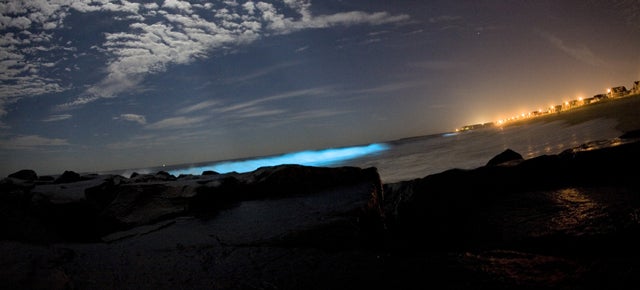 For those who've seen it — and photographs don't do it justice — the bio-luminescent Mosquito Bay is one of the world's most spectacular natural sights. Tiny plankton known as dinoflagellates light up the water like a glow stick at night. But since January, the glow has faded, throwing the entire Puerto Rican town into a panic.
---
For the last 25 years, scientists have been able to monitor the "greenness" of trees from space and use that as a tool for evaluating plant health. The problem is that greenness isn't a good indicator for stresses — such as drought — because some trees (think pines) continue to be a lovely green until they're dead. Researchers are thus turning to a new indicator: the way plants glow.
---