It's hard to imagine good things coming out of the cancellation of Firefly, Josh Whedon's much-loved sci-fi show, yet here we are, over a decade later and two of its stars, Alan Tudyk and Nathan Fillion, are making a TV series lampooning the unfortunate axing. Called "Con Man", the pair started an Indiegogo campaign a few day ago to get funding and it has done rather well, to put it mildly.
---
Video: At the South by Southwest festival in Austin, TX, audiences are watching the debut of a new CNN documentary called Steve Jobs: The Man in the Machine. It's about Jobs' life, and how he influenced tech culture. The film's director, Alex Gibney, is also known for his controversial documentary about Scientology.
---
Video: My first thought when I started to see Danny and the Wild Bunch — a short live action and animation film by Robert Rugan — was: "Is this some dumb Pixar imitation." I'm glad I kept watching, because I love when sugar, spice, and everything nice goes to hell.
---
Fight Club 2 is here, the first six pages of Chuck Palahniuk's 10-issue comic book series illustrated by Cameron Stewart and published by Dark Horse are here. The first issue will hit the stores on May 27. Check out the cover and the first page:
---
Jack White's music video for his latest single That Black Bat Licorice is three videos in one. If you just hit play you'll see an animation of Jack White. If you hit "3" while the video is playing, you will get a live action version of the first one. And if you hit "B", a video of people headbanging like mad.
---
Even with just over a month left until the premiere of season five of Game of Thrones, it still feels like an eternity away. You could spend the interim watching the whole series again, reading the books, or even staging mock meetings of the Small Council in your living room. It's all old-hat though compared to this new blooper reel featuring Maisie Williams, Lena Headey and Peter Dinklage.
---
Game of Thrones' fifth season is less than two months away, and if you're looking for a way to pass the time you'll be pleased to hear that the last season has just hit store shelves on DVD and Blu-ray. If you haven't watched it yet, get on board! To celebrate the release, two of the show's most interesting characters have shared a few thoughts on the filming and future of the hit series. Spoiler warning!
--- Video: The film editing maestro Clara Darko stitched together this perfect montage of actresses in action movies kicking mother freaking arse. I love how each punch or kick or swing of the sword or crossbow shot or anything perfectly blends together from one movie to the next. More arse-kicking please!
---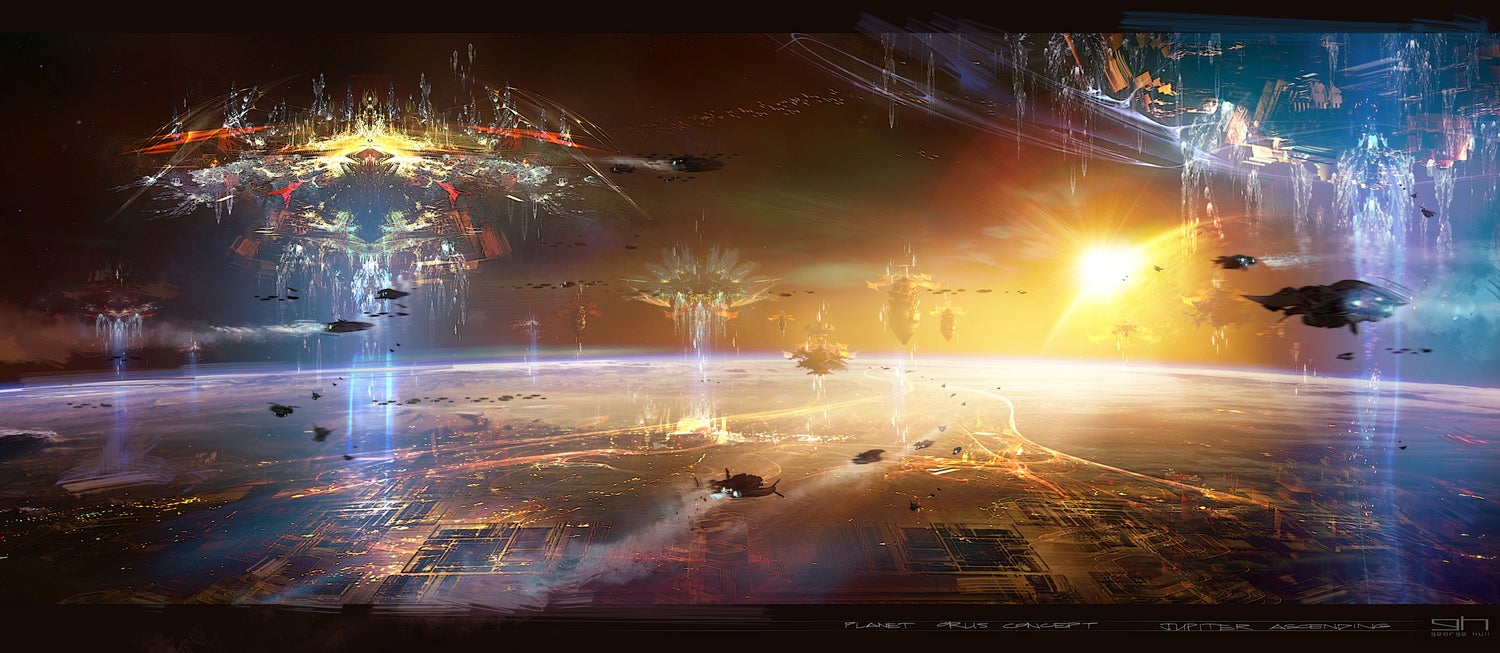 "Jupiter Ascending isn't just a mediocre film. It's also self-indulgent, and in love with its own excesses," says Charlie Jane Anders for io9. One of the excesses is the glorious eye candy, which seems to be a constant mental overload. You can thank the genius of George Hull and his baroque concept art for that.
---