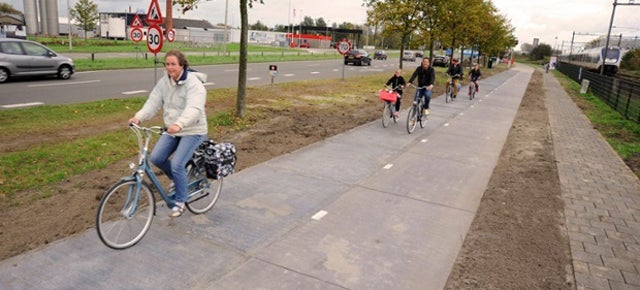 There are only so many roofs in the world, so the Dutch are getting creative about where to put their solar panels. SolaRoad is exactly what it sounds like — solar panels that pull double duty as road surface and electricity generator. And this being the Netherlands, they of course made a solar road for bikes.
---
No one knows quite what to call the Prelude, the floating behemoth that Shell engineered to extract natural gas from below the ocean floor and liquefy it for use. It's hard to describe Prelude because it's so much bigger than any other floating structure humans have ever built — which is also what makes it difficult to photograph.
---
We all like the idea of saving energy, but actually retrofitting an old house is a loud, messy and expensive headache. So the Dutch company Energiesprond has come up with a way to make houses carbon neutral with easy, snap-on insulation and solar panels. It doesn't hurt that houses come out looking quite handsome too.
---
In the past few years, earthquakes in Oklahoma have been on the mysterious rise — the state has had more earthquakes than even California. Why? One big fat finger has been pointed at fracking, in which toxic wastewater is injected into wells that can leak and lubricate faults. We clearly need a better solution for this wastewater, and that solution may involve satellite dishes.
---