IKEA is one of the largest corporations in the world, and even the smallest change in its supply chain could have a gigantic impact on its business. After all, this is a company that uses 1 per cent of the world's wood supply. In fact, IKEA operates a whole venture fund devoted to emerging tech, from ice cream to batteries.
---
Zero-emissions hydrogen fuel cells seem like a great idea. At least they do until you realise that isolating the hydrogen that powers them creates a crapload of greenhouse gases. Now, a Stanford grad student thinks he's found the answer — and it involves a AAA battery.
---
The problem with data centres is excess heat. The problem with liquified natural gas terminals is excess cold. In a perfect world, one problem would neatly cancel out the other — which is exactly the world imagined by Massachusetts-based TeraCool. Coupling data with liquified gas could make a lot of energy sense.
---
Sitting in a noisy bar, caring for screaming children, or watching the ball game — all awful locations to make a phone call, but soon these scenarios could actually help charge the battery of your cell.
---
Pittsburgh International Airport has seen better days. Saddled with debt from building now unused gates, the troubled airport is expanding into a completely different business: fracking. The airport will stay open as drillers tap the gas reserves underneath, thanks to a technique called horizontal drilling.
---
Hydrogen can be devastating, but in the right hands, it can also be awesome. When burnt, for instance, it emits only water vapour instead of nasty carbon dioxide that's responsible for much of the climate change we see today. Now, researchers have discovered a way to convert methane — the same gas that makes landfills stinky — into hydrogen by making it react with carbon dioxide itself.
---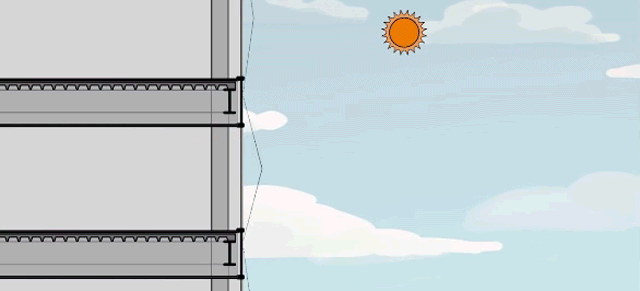 It's the very worst part of working in a giant climate-controlled building: Depending on the time of day, half of the offices end up roasting while the others freeze to death. How about a smart skyscraper skin that adjusts window by window based on the angle of the sun, saving energy and allowing workers to control their own temperature destinies?
---