Mountaintop removal mining is exactly as destructive as it sounds. In West Virginia coal country, entire mountaintops have been stripped into barren wastelands for the sake of coal. But every once in a while, you'll see a lonely island of green — a centuries-old cemetery that just barely continues to exist.
---
With millions of tons of carbon dioxide billowing into the atmosphere from our power plants, one possible solution to the pollution is carbon capture — sequestering the greenhouse gas before it ever leaves the plant. But then what do you do with all that carbon? Norway has an interesting new plan: farm salmon.
---
If you live in an old city surrounded by history, chances are you also live with hundreds if not thousands of gas leaks all around you. It's bad for you (think explosions) and bad for the environment (think global warming), so we should probably do something about it. That's why Google Street View and the Environmental Defence Fund (EDF) have teamed up to map methane leaks in cities.
---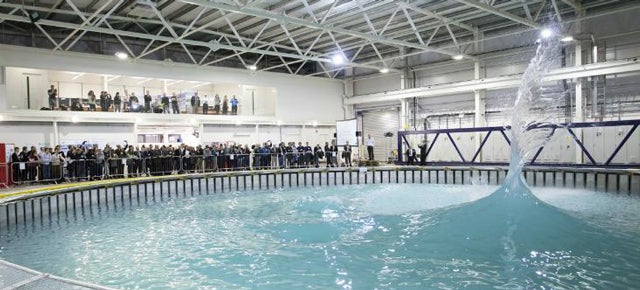 Definitely not coming to water park near you is a FloWave, a state-of-the-art wave pool that whips water around, simulating waves as 27m tall buildings and currents at 6m per second. FloWave is a real ocean simulator, you see, and its job is to prepare our infrastructure for the violent battering of the seas.
---
High up in the hills of Lawrence Berkeley National Laboratory sit four square, blue buildings you'd be forgiven for finding nondescript. Inside, they're decorated with drab grey carpet familiar to any cubicle worker. But it's the buildings' electronic guts that make them unique in the whole world. These labs — including one that rotates 270 degrees — are where office buildings of the future will be tested.
---
Electricity bill got you down? Blame your cable box or PlayStation or printer or refrigerator or any of your smart, networked devices that have a gentle-sounding but energy-sucking "standby mode". A new report from the International Energy Agency puts the energy from networked devices worldwide at 616 terawatt-hours. That's more than the entire energy consumption of the United Kingdom.
---