When the residents of Tulsa, Oklahoma buried a car in 1957 as part of an enormous time capsule, they included containers of gasoline. The good people of Tusla reasoned that the folks of 2007 might not have any gas left to fill up the Plymouth Belvedere that they were interring for a fifty year journey into the future. Boy were they ever wrong.
---
An innocent little cable box can suck up more electricity than your actual TV. The most galling part though? Up to two-thirds of its power-hogging actually happens in "idle" mode, when you're not even using it. The good news is device makers have the technical ability to make cable boxes that don't waste so much electricity. They just need to actually do it.
---
When it's hot out, buildings have a hard time staying cool: bombarded with ambient heat and generating yet more inside, their air conditioning systems have to work hard to keep temperatures down. Now, a new super-thin coating developed at Stanford could be applied to buildings to help them cool themselves more effectively.
---
Large-scale solar plants are monstrous construction projects, that cover hundreds or thousands of acres of land in photovoltaic goodness. This amazing video shows how they go from concept to reality.
---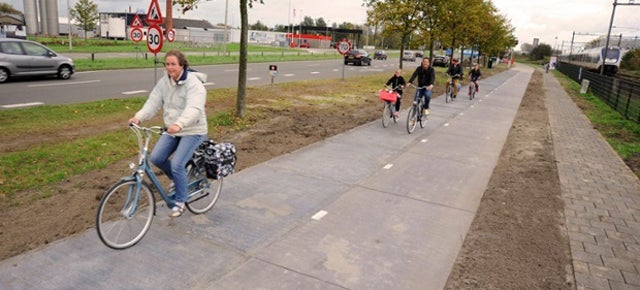 There are only so many roofs in the world, so the Dutch are getting creative about where to put their solar panels. SolaRoad is exactly what it sounds like — solar panels that pull double duty as road surface and electricity generator. And this being the Netherlands, they of course made a solar road for bikes.
---
No one knows quite what to call the Prelude, the floating behemoth that Shell engineered to extract natural gas from below the ocean floor and liquefy it for use. It's hard to describe Prelude because it's so much bigger than any other floating structure humans have ever built — which is also what makes it difficult to photograph.
---