Loading page
Video: Ever been stuck on a plane and wish you could watch your TV and movies on something a bit bigger than an iPad? If you're savvy enough with your Qantas or Emirates frequent flyer points, or if you're cashed-up enough to be happy splashing out for a business class seat, Emirates' new Boeing 777-300ER flights starting November add a surprisingly high-tech feature: in-seat HDMI.
---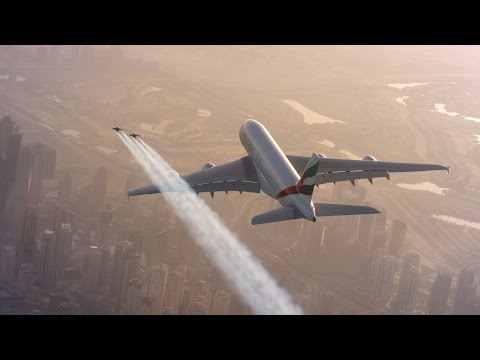 Video: I've seen some stunts in my day, but goddamn, this has to be one of the most impressive: two guys in jetpacks fly in formation with an Emirates A380 passenger plane over Dubai in a spectacular display.
---
Ever wondered where your airline meal comes from? If you've ever flown through the Middle East, it probably came from here.
This one building provides the fresh food, drinks and other amenities for every Emirates flights leaving Dubai, at a rate of one every two or three minutes, to hundreds of different destinations around the world. And the only preservative used is a bit of lemon juice. (56K and mobile warning: 15MB of images ahead!)
---
When you talk about the price difference between economy class and business class, or business and first, you have to find some pretty significant differences before you can justify that extra cash. (Unless someone else is paying, or you can snaffle an upgrade using points or some smooth talking.) But if you're looking for a good reason, the Emirates A380's onboard bar has to be pretty much up there.
---
If you're taking a long-haul international flight, you hope to god that it goes smoothly and nothing untoward happens. And it barely ever does, to be fair, with the odds of a fatal airline accident being something one in 10 million. But every airline crew goes through extensive training to ensure that if anything happens, you'll be able to escape safely through emergency exits and evacuation slides.
---
---
There are a few different iPhone apps out there designed to make inter-language communication an easier proposition, but none of them are quite like the Emirates iLingual app. Combining either French, German or Arabic with those stupid mouth replacement gimmicks you see on late-night TV infomercials, the app lets you "speak" another language through the iPhone.
---
Loading page