One moon "day" is approximately 29.5 Earth days. This rotation coincides with its orbit around the Earth so that we only see about 59 per cent of the surface of the moon from Earth. When the moon first formed, its rotational speed and orbit were very different than they are now. Over time, the Earth's gravitational field gradually slowed the moon's rotation until the orbital period and the rotational speed stabilised, making one side of the moon always face the Earth.
---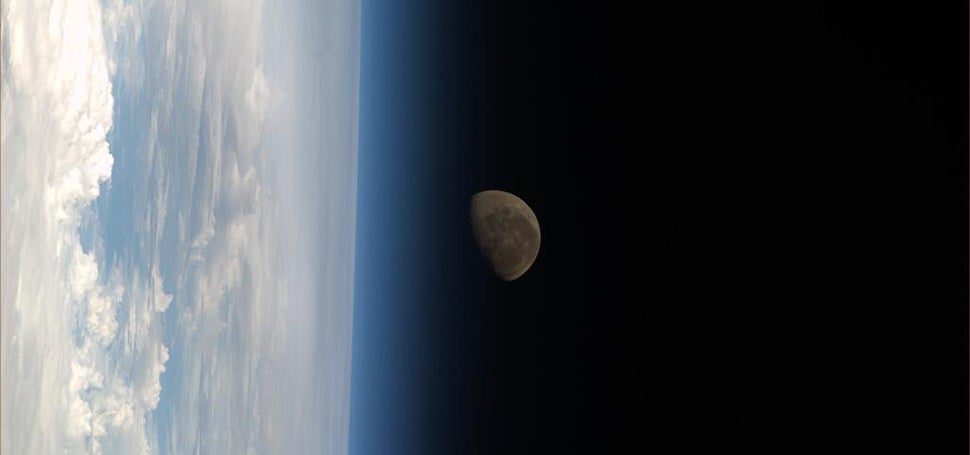 ---
Remember how Christopher Reeve's Superman spun the earth backward to go back in time and save Lois? Turns out, he probably shouldn't have done that, because slowing the earth's rotation to a stop would seriously mess up everything on our planet, as Earth Unplugged explains. Not cool, Superman.
---
Yeah, I can totally see it! How can you miss that? It's right there. Clear eyes, full Earth, can't miss. Wait, really? No of course not. Anyone who tells you that is either a liar or a hawk. Earth looks incredibly tiny up in that Martian sky. Sure, if you squint hard enough and fake it long enough, you'll spot it the dot but it's not unlike looking for dust on a wall.
---
From microscopic coral to massive planets, the natural world is full of beauty on a scale that can only be seen with the aid of a microscopic or a telescope. Announced today, the winners of the 11th annual International Science and Engineering Visualisation Challenge — sponsored by the journal Science and the US National Science Foundation — zoom into microscopic scales and zoom out onto planetary scales.
---
I'm loving these photos at an oblique angle from the International Space Station. Most Earth photos from space look so flat, but these have such a three-dimensional quality. This one in particular, showing clouds over the Western Sahara Desert also feels painted with delicate brushstrokes, thanks to the lighting and the surface's palette and textures.
---