Los Angeles's swiftly mutating downtown district is usually viewed at street level. Now, thanks to filmmaker Ian Wood, we get a top-down perspective of the city's transformation in this gorgeous video, which he shot with a lightweight remote-controlled quadcopter and camera system. 20 stories up, there's change afoot as well.
---
The Federal Aviation Administration has been dragging its heels on drafting drone regulations, lots of people are confused about, where it's OK to fly their small aircraft. Using OpenStreetMap and government data, the wizards at MapBox created an interactive map to clear the air.
---
Here's the thing about drones — and really any machine that flies: If something goes wrong, it will fall to the ground. And if you are in the way, it will hurt you. That's why DJI is rolling out a new feature called DropSafe to ensure that a falling drone doesn't fall too hard.
---
Japan is a peaceful nation, in no small part because its post-World War II constitution required it. All that changed last month when President Shinzo Abe ended the ban that's kept Japan's army in check since 1945. And do you know what the country did next? It started buying drones. Lots and lots of drones.
---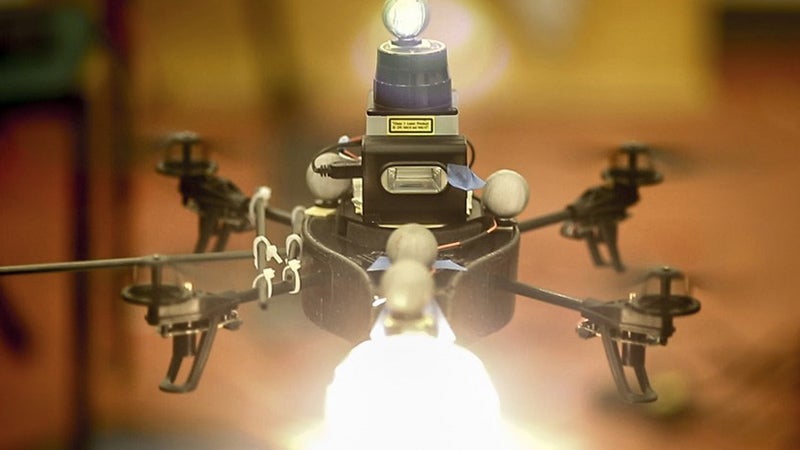 If you've ever been to a photography set, you've probably noticed how much time the photographer and their assistants take to perfectly position the lighting — only to have their efforts foiled when the model moves. That's why researchers at MIT are proposing using drones as lighting, as they can constantly ensure they're always in the perfect spot.
---
Your friendly local librarian hasn't been replaced by technology just yet, but that doesn't mean the library itself hasn't benefited from a few modern upgrades. Wrangling special-order books and DVDs between the New York Public Libary's 150 branches is a daunting task, but it's actually made surprisingly efficient with the laser scanning machines at its Queen's sorting facility.
---