GoPros and dogs have always been a wonderful combination, but now the company has decided it's smart business too. The company has just launched the Fetch mount, which allows you to comfortably fasten two cameras to your canine pal.
---
Video: I love dogs. I love magic tricks. I love sausages. Obviously, I was bound to love this video of dogs reacting to magic flying sausages. I like the fact that some of them get so freaked out at the sight of a delicious treat floating in front of them — but others just don't give a damn.
---
They have been a popular option for pet owners taking road trips with their dogs in Sweden for the past decade, but these wonderfully over-engineered Variocages are finally available in North America. Like your car, the cages are designed with crumble zones to absorb impacts during a crash, providing extra protection for your dog inside.
---
Every tech nerd in the world wants to be at the Apple WWDC keynote that starts in just about one hour. Sadly, uhhh, we don't all get to go, and security at the event is so tight that even the guard dogs have badges.
---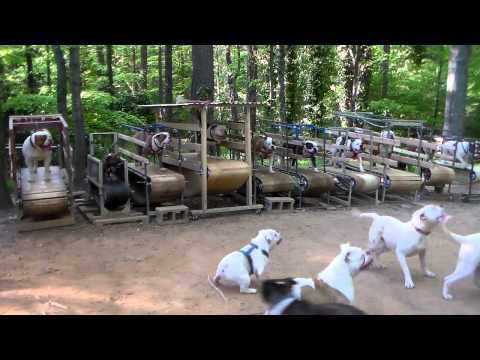 Sometimes, when you have a lot of dogs, they don't all get the exercise they need. Not these dogs though — they get to use these sweet dog treadmills at their outdoor dog gym. So even though there's a lot of dogs, they all get to be active. Well, most of them. The dog on the left is just out for a relaxing stroll.
---
If you'd rather bring your faithful companion with you on a camping trip than have them stuck in a kennel for a week, you're probably going to want them to be as comfortable as you are. And if they're too big to share your sleeping bag, the Noblecamper gives them their own cosy place to crash every night.
---