Often a synonym of evil manipulation — from Iran faking missiles to Vogue faking women bodies — Photoshop's powers can also be used to help the weak and bring happiness to the world. Take Budapest-based photographer Sarolta Bán, who has decided to turn photos of abandoned dogs into awesome images that may bring them into a new home.
---
Video: Seeing dogs get confused by a magic trick was so darn cute the first time that magician Jose Ahonen decided to pull the same disappearing treat trick again with more adorable dogs. You can laugh as they hilariously react to the sorcery of seeing something vanish right underneath their nose and cry aww as you see their trusting eyes in the video below.
---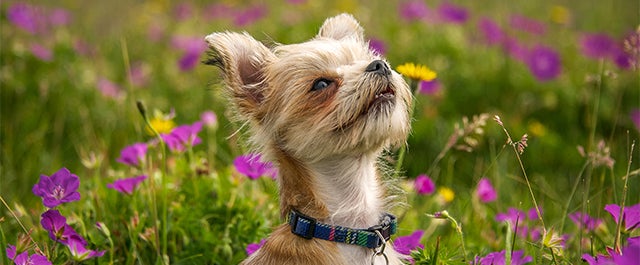 Oh, outside, so many flowers to smell, so many butts to sniff. When it starts to be pretty out, you might find yourself falling in love all over again…with your pup. If you'd like to empty your pockets in order to express your devotion, here are some products that will please both dogs and their devoted humans — and though almost all the below products require ordering from overseas, some (such as muzzles) have plenty of local alternatives.
---
OK, folks, we started this whole strangers kissing viral craze and we have had enough of it. This video of dogs kissing for the first time is the end of this stupid trend. They are not models and they like to sniff each other's butts and that's all we need. Enough is enough, people. Carry on.
---
On one hand, having a pet door installed means you don't have to wake up at the crack of dawn to let your dog or cat out. But on the other hand it also gives your pet access to a possibly wet and muddy yard whenever they want. That's why the Petwalk automatic pet door can be programmed to only open during specific hours, and even keep your dog or cat indoors when it detects rain.
---
It's funny watching dogs do human things. It's funny to watch them drive cars. It's funny to watch them sit in chairs. But, seriously, new research shows that dogs actually are just like us. At least they are when it comes to processing voices and emotion — and, now, we have the brain scans to prove it.
---
Everybody gets the gist of the Winter Olympics. Skiing, hockey, figure skating, various sled races — we're all familiar with the classics. But did you know that dogs once competed in the Winter Olympics? Have you heard of the sport that's a cross between hockey and soccer? The Olympics used to be weird, man.
---