First of all: if you don't have a dog, please think hard before getting one these holidays. It's a huge responsibility. They are sentient, sensitive beings who will love you all their life, not toys. But if you're a true dog lover, then dive in with us and share your favourite gifts with your fellow canine lovers.
---
Today I found out about the use of exploding anti-tank dogs during World War II. These dogs, usually Alsatians, were also called "Hundminen" or "dog mines." They were trained to carry explosives on their bodies to enemy tanks, where they would then be detonated. No, it did not end very well for the dogs in question.
---
Ending the dogs vs cats superiority debate once and for all, UK-based appliance maker JTM Service has developed a washing machine that can actually be operated by support dogs trained to assist those living with disabilities. The machines are even bark-activated, since dogs are notoriously bad at pushing buttons.
---
Slow motion and Matrix-style bullet time was invented for this and this only: dogs. As in playing with dogs and recording them in bullet time with 52 GoPro cameras set up to freeze time. The video itself is already fun (if you have a heart) but the behind the scenes footage is almost just as interesting (if you like cameras).
---
If you're having a tough time potty-training a new puppy, it turns out the research done by Russian physiologist Ivan Petrovich Pavlov can be of service. He was famous for conditioning dogs to salivate at the ring of a bell, and you can run a similar experiment by rewarding a puppy every time it does its business on this potty-training mat.
---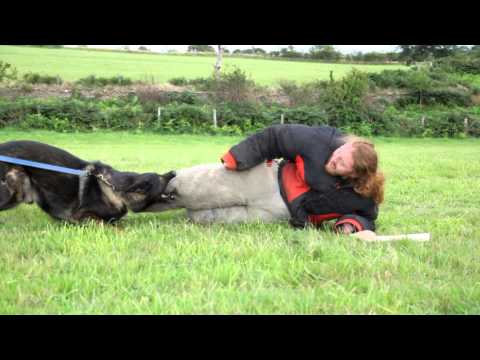 Unboxing videos, by definition, are boring. Unless you're unboxing the very first of something or the box is made entirely out of rare-Earth materials, nobody cares. That's why the guys behind Total War: Rome II got creative, and decided that they should try and do an unboxing video while being attacked by trained dogs. The results are hilarious.
---
You know that brief moment of concern when you have to momentarily unlatch your dog's leash to wrap it around a pole, and you're a little anxious they're going to bolt? That's now a thing of the past with this incredibly clever Secret Agent Leash. Just below the handle is a built-in set of plastic clips that make it easy to secure dogs anywhere without ever having to unleash them from their tether.
---