Ever wondered what machinery smartphone firms use to test out those shiny handsets they keep shifting by the truckload? I have. Well, they spend a full six months of the phone's now-year-long pre-release life just checking if they're fit for purpose, so that's got to be some pretty interesting, exhaustive probing and pummelling.
---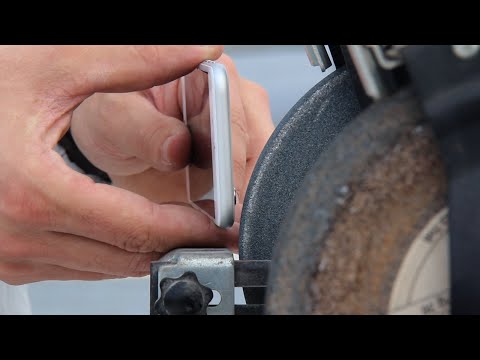 The industrial design of the iPhone 6 is close to flawless… except for one flaw so weird, so major, that it's maddening: The fact that the camera protrudes from the body of the phone, meaning it never lies completely flat and gets caught on all kinds of stuff. The perfectionists at PeripateticPandas have a solution, and it involves industrial machinery.
---
You knew it was coming. Videos of people torturing the newest rash of iPhones are starting to emerge online, including one by SquareTrade, which shows the new iPhones being tortured in every way imaginable. So how did Apple's latest crop hold up? Surprisingly well, with a few caveats.
---
Want to watch an expensive, dangerous and mesmerising fireworks display in your living room? It's easy. Just buy a plasma TV and then hook it up to 2000 volts.
---
---
There are "battle bots" and then there are "utter, one-sided destruction bots". The two-wheeled harbinger of destruction called Last Rites fits in that second category.
---
What is it about Sydney? It's a beautiful city, so why do film studios seem so keen to show it being destroyed? First the Pacific Rim robots started beating on the Harbour Bridge, now World War Z creatures are laying waste to the Sydney Harbour foreshore.
---
Holy crap. You know in Grand Theft Auto when you're trying to destroy everything — cars, homes, the entire street — in your way while racking up as many police officers on your tail just for giggles? That actually happened in real life. A 51-year-old man went on a ridiculous rampage on his bulldozer destroying four homes, smashing cars and cutting power to thousands of people.
---