Because of course Einstein can use the Force. He discovered it.
---
Putting every action figure ever released to shame, Sideshow Collectibles has announced an absolutely stunning 13.5-inch tall Dark Vader figure that's promised to be the most detailed Star Wars toy ever released. It includes everything from glowing electronics on his chest plate and belt, a selection of nine-different swappable posed hands to choose from, lit and unlit lightsabers, and even separate display stands for the Vader and his removable helmet.
---
Ever wanted to know what it's like to be Darth Vader serving a plate of Dark Side-pain to a Jedi? Now you can with this awesome first-person lightsaber video. Pew pew!
---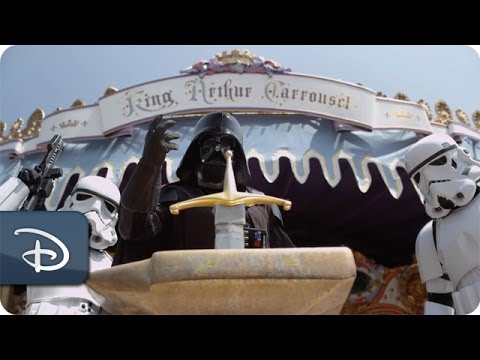 It was only a matter of time before this happened but Disney Parks just posted a video that shows Darth Vader going to Disneyland. It shows ol' Darth riding that stupid Teacup ride, going on Space Mountain and using the Force to his advantage.
---
The special edition versions of the Star Wars films and the recent prequels left many fanboys wondering if George Lucas maybe wasn't the visionary filmmaker they had all worshipped and adored. But one aspect of Lucas's vision that has never come into question is his ability to market the hell out of a franchise.
---
---
---