Anovos has been outfitting geeks with replica costumes from popular sci-fi franchises for years, but at Comic-Con this year the company has what is easily the ultimate power in the cosplaying universe. Based on the design created for The Empire Strikes Back, this Darth Vader getup is the most accurate, and surprisingly comfortable, costume you'll find anywhere.
---
Making its first appearance in public — at this week's San Diego Comic Con — and built around a C5 Corvette, this life-sized Hot Wheels Darth Vader car looks like like one of the meanest looking vehicles I have ever seen. It has a 526hp engine and is no doubt capable of some serious road rage in the wrong hands.
---
Because of course Einstein can use the Force. He discovered it.
---
Putting every action figure ever released to shame, Sideshow Collectibles has announced an absolutely stunning 13.5-inch tall Dark Vader figure that's promised to be the most detailed Star Wars toy ever released. It includes everything from glowing electronics on his chest plate and belt, a selection of nine-different swappable posed hands to choose from, lit and unlit lightsabers, and even separate display stands for the Vader and his removable helmet.
---
Ever wanted to know what it's like to be Darth Vader serving a plate of Dark Side-pain to a Jedi? Now you can with this awesome first-person lightsaber video. Pew pew!
---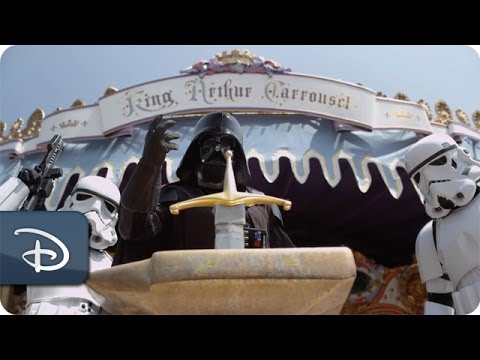 It was only a matter of time before this happened but Disney Parks just posted a video that shows Darth Vader going to Disneyland. It shows ol' Darth riding that stupid Teacup ride, going on Space Mountain and using the Force to his advantage.
---