Video: YouTube user DBZGTBGM1991 compiled this neat video showing how Darth Vader's "I am your father" line — probably the most famous line in movie history — sounds in 20 different languages. My favourites are Japanese and German — because they sound pretty scary.
---
Continuing the recent decorating trend of glowing stuff smashing through walls we now have three of the most popular Star Wars characters joining the fray. Designed more for kids or gaming rooms these 3D heads are completely self-contained so there's no unsightly power cords to be hidden, and thanks to LEDs inside they always remain cool to the touch.
---
One of the greatest bad guys in movie history deserves a figure that stands more than just six inches (15cm) tall. So Sideshow Collectibles has finally done Anakin Skywalker some justice with its upcoming quarter-scale Vader that's just over 26 inches (66cm) tall. That's just about the size of a newborn infant, minus the dirty nappies and constant crying.
---
If you're still drooling over the C5 Corvette that Hot Wheels turned into the ultimate ride for Darth Vader, the company will finally let anyone take it for a spin. But not the original, that's probably driven around by Hot Wheels' CEO. The rest of us will have to settle for this remote control version that's about a foot-and-a-half long — so at least you won't need a garage to store it.
---
They don't pick up quite as much speed racing down a snow-covered hill as a properly waxed wooden toboggan does, but when it comes to avoiding that tree you're about to hit, nothing manoeuvres quite like a steerable snow racer. And when it comes to intimidating other riders on the hill, nothing will be quite as effective as this Vader-face SnowMoto Zip sled.
---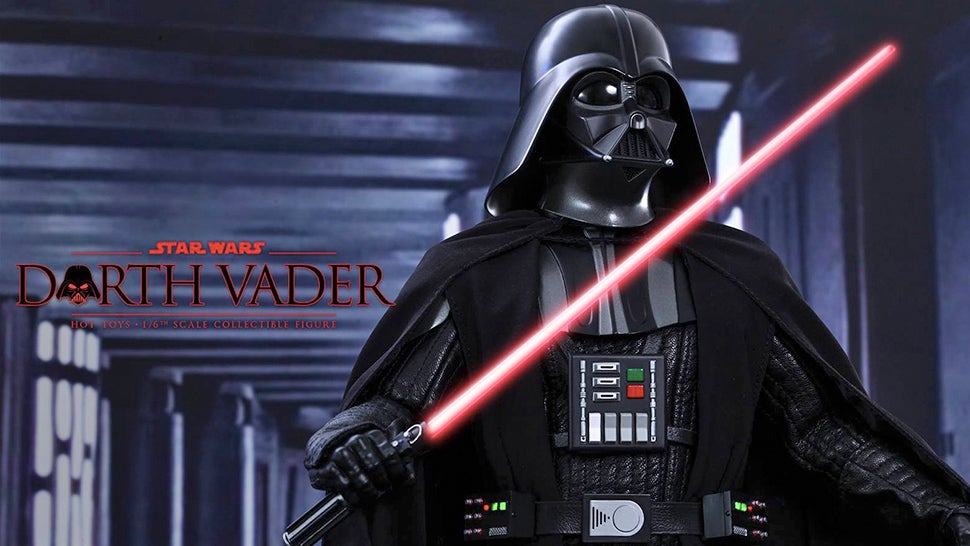 Toys: Every time Hot Toys announces a new figure it's a chance for fans and other toy companies to see exactly how a collectible should be made. And while there have been thousands of Darth Vader toys released since Star Wars premiered in 1977, Hot Toy's 14-inch version is easily the definitive Vader figure thanks to some incredible attention to detail.
---
There always seems to be a steady stream of Star Wars merchandise hitting stores, but with a new film on the horizon in 2015, the Disney marketing machine is quickly ramping up to overdrive. Even Adidas wants in on the action with its upcoming Star Wars Originals collection that includes these wonderful Vader kicks. If only they weren't sized for kids.
---
Video: I know this sounds like one of these questions you typically ask when you are high, and, most probably, the guys at Machinima Prime were stoned when they came up with it. I'm just glad they decided to actually make this video the next morning.
---