She's good. After nailing her first edition of doing impressions on foreign languages, Smoukahontas is back for the sequel, and it's just as impressive. Her impressions are pretty much spot on to non-foreign language speaking folks.
---
Betrayed by his brotherhood, imprisoned by his church, and left for dead by his faith, one pissed-off padre will have his revenge, come hell or high water.
---
We love the work of Aussie fashion house Black Milk Clothing. So far they've made awesome outfits from the likes of Mass Effect and Harry Potter to name a few. Now you can wear your love for the Houses of Stark, Lannister or Targaryen with the new Game Of Thrones collection from Black Milk.
---
Hooo boy. It seems that not everything Daft Punk touch turns to gold. An unreleased track from our favourite robots and Jay-Z has dropped online, and it leaves a lot to be desired. Take a listen to "Computerized".
---
The light microscope changed science and medicine forever , but in the 400-plus years since it was invented, this crucial piece of equipment has gotten pretty expensive and fragile. Manu Prakash and his team have designed a brilliant solution — an origami microscope that costs less than 50 cents to make.
---
Ever wondered what Lemmings looks like in real life? Tell a bunch of kids they can break into Future Music Festival by jumping the fence, and you'll get your wish.
---
Watching this gives me the chills. A cosmonaut floats away from the International space station, spinning out of control as the camera follows it, orbiting planet Earth for seven months before plunging into the atmosphere, burning and disintegrating. A terrifying scene that looks like the movie Gravity, but the video above is real — except no human was inside that suit.
---
John Oliver of The Daily Show and The Bugle fame grows up into his own show next month. Called Last Week Tonight, it promises to give you a weekly round-up of all the best news on one day of the week. How's that for not overpromising?!
---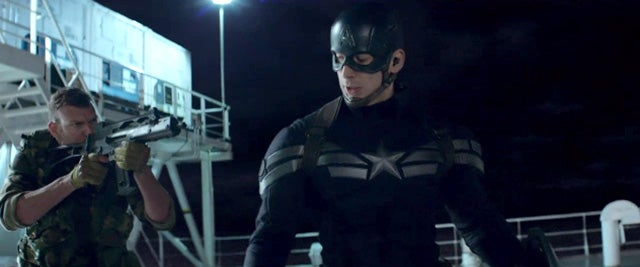 A trailer's one thing , but to get a feel for just how badass Captain America: The Winter Soldier will be, might we recommend this four minute scene? Why yes, yes we might!
---