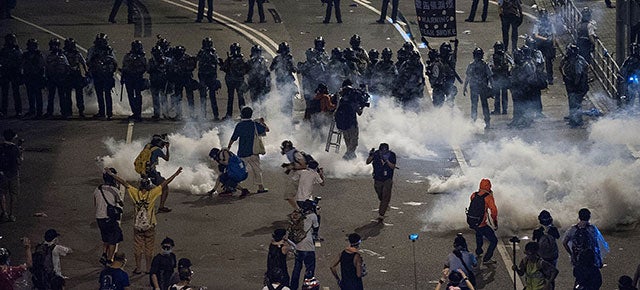 China is continuing its disturbing trend of social media crackdowns as pro-democracy protests flair in Hong Kong. Websites such as Blocked In China, which monitor the government's censorship of online services, confirm that the blackout spreads across the country.
---
Earlier this week, Europe's controversial "Right to be forgotten" legislation started going after Wikipedia pages. Now we know more: Wikipedia has revealed the five pages removed from Google searches, adding up to more than 50 links in total.
---
Europe recently decided that folks have a "right to be forgotten" on the internet, giving people the opportunity to get results they don't like erased from Google and other search sites. But the internet never really forgets, and here's proof: Hidden From Google, a new website that documents the things people ask Google to erase. Sneaky.
---
In May, the EU Court of Justice ruled that because people have "right to be forgotten", Google would have to remove links when people ask them to from European versions of search. But you can't hide from the past on the internet.
---
I can understand adjusting movie formats to fit a screen. I can understand bleeping offensive words on regular networks. But changing entire iconic lines from movies like The Departed, Scarface, The Usual Suspects or Pulp Fiction into absolutely ridiculous stuff is almost offensively stupid — and hilarious.
---
After flipping to ban brutal, gruesome decapitation videos six months ago and then flopping to allow such videos to appear in the 'book yesterday, Facebook has flipped again (or is it re-flopped?) in less than 24 hours and will reinstate its previous ban on such decapitation videos. It's an ugly tug of war between free speech, censorship and horrifying content that can sort of dictate what people see in their feeds.
---
Don't even think about posting cartoon nipples on Facebook. Decapitations, however? Go right ahead. Six months after establishing a ban on blatant, gruesome beheadings, Facebook has decided to (once again) keep videos of decapitations available to the masses.
---
China's internet is not exactly famous for its freedom, but it takes a lot of effort to keep it tied down. Folks have done maths to suggest there are thousands of government employees censoring China's Twitter-clone Weibo alone. Now the Beijing News is pegging that total at more like two million.
---
Here in Australia, it's easy to slip into the comfortable idea that the internet is unrestricted, a home for free speech and exploration, whether it's meaningful and important, or dumb hashtags. It's not that way everywhere though and Freedom House has mapped out the current state of affairs across the globe.
---