---
You can buy a brand new car in Australia for less than $9000. There are some caveats, though — it's a four-year-old design that can only be sold in Western Australia because it doesn't have any electronic stability control, and you can only get that driveaway price on a car that has been sitting around on a showroom floor for a year.
---
GoPro's miniature action cameras are pretty good at capturing fast motion, with great rolling shutter control and the ability to record at fast frame rates, but there are some things they just can't deal with. One of those things is being taped to a car's tyre and flung around at 70 kilometres per hour.
---
What happens when you take a much-loved car brand and re-release its iconic vehicle for the 21st century? What happens when you then tweak that re-release after a couple of years, and change a few things along the way? Mini's revitalised Cooper S hatchback is more spacious, faster and more fuel-efficient than the previous model, but it's not the perfect city car.
---
---
We already know it does a perfectly good job of surviving a head-on crash with a 2300kg S-Class, but the 2016 Smart ForTwo actually looks nice too. Now, Smart has given the new car a fancy intro video.
---
Video: Driving in Russia is flirting with death — watch these three accidents happening in 30 seconds. First, the grey van violently rams itself into the car in front of it. The red car cuts off the dash cam and skids by. And then the original grey van zooms into the intersection and gets smashed sideways by a bus and an SUV. What the hell, Russia. What the hell, grey van.
---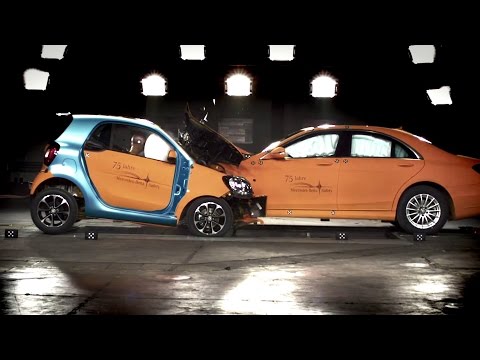 ---
Students from UNSW have, for a couple of decades, been developing and refining an extremely specialised solar-powered racing car, made to compete in the long-distance World Solar Challenge. Sunswift's eVe solar car is the fifth incarnation of the solar racer to come out of the UNSW skunkworks since 1996 and, a year ahead of the 2015 Challenge, the team has their sights set on breaking a completely different record.
---
Some people would call this Mazda MX-5 conversion blasphemy. Turning the perfect roadster into a tubbed dragster with massive Hoosier radials. Ripping the light, rev-happy four-cylinder out of the front and replacing it with a massive lithium-ion battery pack. Hooking up two forklift electric motors. And then running 9-second passes all day long.
---