Ford Motor Company announced this week that top designer J Mays is retiring. In his 33-year career and 16-year tenure at Ford, Mays ushered in the era of retro-futuristic styling that other car companies scrambled to follow. Here, we look back at five of his vehicles that steered the shape of automotive design.
---
On November 2, 1983, the world's first minivan rolled off of Chrysler's assembly line. It was the vehicle that saved Chrysler from financial doom — and in the process, shaped the automotive landscape for 30 years to come.
---
Sick of standing outside the buggy and light-wing aircraft stores — conveniently located side-by-side — pondering which mechanical fun device is more worthy of your dollars? Yeah, I haven't done that recently either, but if the conundrum ever does present itself, you won't have to compromise: just pick yourself up a SkyRunner.
---
If you've ever put petrol in a car, you'll know that the pump magically knows when to stop spewing fuel into the tank. That's super useful, and safe too. But how does it know when to stop?
---
The Royal Automobile Club of WA (RAC) has debuted the world's first "Attention Powered Car" – a vehicle that will only run at full capacity when the driver is paying attention. On the plus side, the technology could potentially save your life. On the downside, you're required to wear a neuro headset gizmo while driving…
---
3D printing is starting to take off, with affordable, consumer-level hardware becoming a real option. While the average person's plans might be limited to fashioning little toys or basic tools, Ivan Sentch from Auckland, New Zealand, has decided to go not one, but 132 steps further by crafting a replica Aston Martin DB4 with the help of a $US499 Solidoodle 3D printer.
---
The 2013 Tesla Model S is one of the most flagrantly gorgeous automobiles ever to taunt the unwashed masses. This 11-second video illustrates one of the reasons why you'll never be able to afford one: retractable, motion-sensing door handles. Our eyes are currently green with envy (which only makes the car look cooler. Tch.)
---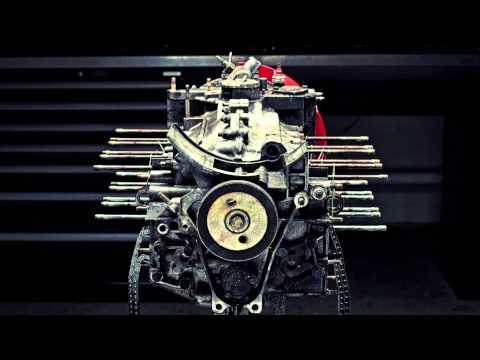 It's not until you've seen all the bits and pieces that make up a car engine that you realise just how much of a marvel it is. Well, at least for those of us with the automotive knowledge of a teabag. Even so, regardless of your level of expertise, I challenge you not to be enthralled by this deconstruction of a Porsche Carrera engine.
---
Ask any parent and they'll tell you the best toys are the ones that leave kids exhausted and ready for a long peaceful nap. So instead of buying them a traditional RC toy car that chews through batteries or leaves them bored while they're waiting for it to charge, consider the $20 DynamoGo which makes them earn every last second of playtime.
---