---
Australia's biggest casino was taken for $32 million, when its own security cameras were used against it by a high-roller who managed to hijack the surveillance systems.
---
You can try as hard as you want, but a set of adamantium claws are never going to spring forth from your hands. Nor will you ever be able to control the weather, fly, teleport or read someone's mind. The closest you'll ever get to being a real-life X-Men is mastering this set of steel throwing cards like Gambit, minus the fireworks and bō.
---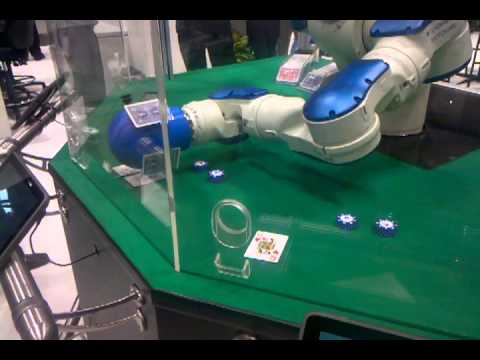 If you thought Dustin Hoffman's Rain Man character took a cold, calculating approach to gambling, he's got nothing on Yaskawa Motoman Robotics' new SDA10F blackjack dealing robot. Using a sophisticated vision system it's even able to recognise the cards it's dealing, so casinos could still use their standard Bicycle decks.
---
Even though business cards seemed like they would be one of the first things to get killed by some fancy techwiznology, they've managed to survive even though the use of dead paper is dying. Everybody has business cards — even the super rich and super famous. Here are a few business cards from people you definitely already know.
---