Loading page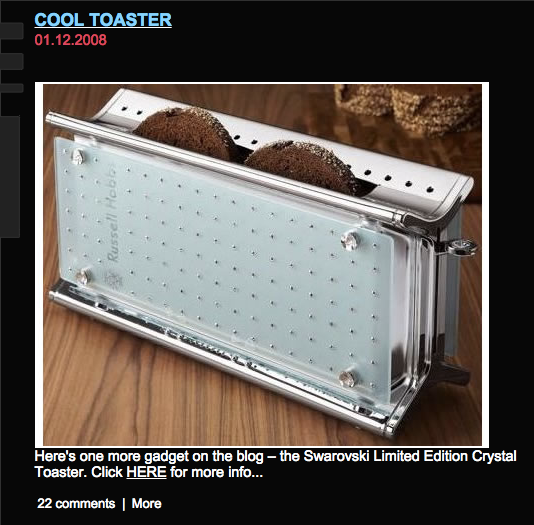 ---
Completely deleting something from the internet is like corralling drunk, feral geese after setting them loose: damn near impossible. But there are ways to conceal the web content you don't want anyone to lay eyes on. You can hide all sorts of web pages with what's essentially a "Keep Out" sign for search engines: a special file called robots.txt.
---
Once upon a time, it seemed like everyone had a LiveJournal, or Blogspot, or TypePad, or WordPress, or ahem, Xanga. Then came the evolutions of sites such as Twitter, Facebook and Tumblr which took the focus away from the blog post and emphasised the sharing of short thoughts, links, photos and whatever else. Nowadays, it seems that nless you're a writer or some sort of public personality, you probably don't have a personal blog full of "entries".
---
If you're reading these lines it's because of this man. He's Dave Winer, the inventor of blogs and RSS syndication, two of the backbones of the web. Often controversial, always challenging, this is the story of what got him inspired to do it all.
---
Arguments are raging worldwide about whether media organisations, including newspapers and television stations, should be more tightly regulated. An independent assessment of Australia's media argues that newspapers need much more effective regulation than currently exists and that a new body should handle this, but also suggest bloggers should be included. That's a reasonable suggestion for large blogs, I reckon, but it could be fiddly to implement.
---
There's a strange quirk in US carrier Verizon's text messaging system. When entering a recipient, if their phone number doesn't pop up with their name and you send it anyway, it may go to someone else. That someone else is often Leila.
---
---
Loading page