Loading page
It turns out you don't need to be a savant like Dustin Hoffman's character in Rain Man, or an MIT mathematics prodigy in order to count cards. There's a relatively simple approach that can give you a slight advantage over the dealer when playing Blackjack, and this site can help you master it.
---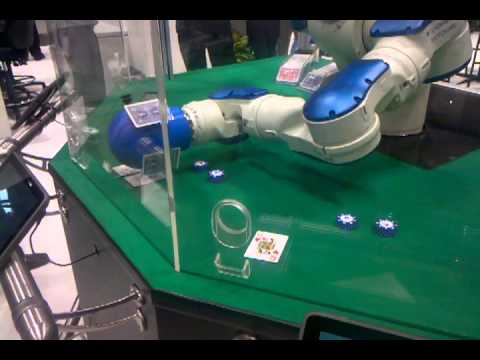 If you thought Dustin Hoffman's Rain Man character took a cold, calculating approach to gambling, he's got nothing on Yaskawa Motoman Robotics' new SDA10F blackjack dealing robot. Using a sophisticated vision system it's even able to recognise the cards it's dealing, so casinos could still use their standard Bicycle decks.
---
Contrary to popular belief, Blackjack is not an easy game to play or master, You could learn how to count cards but you'll get kicked out of the casino and possibly banned, like those MIT students from the book Bringing Down the House: The Inside Story of Six MIT Students Who Took Vegas for Millions or the movie "21".
---
Maybe you know a little about Blackjack, like doubling on 11 or splitting 8's. Maybe you know nothing. But definitely you can know more. With this iOS app, Blackjack Domination, you can learn about all the odds, discover strategies, figure out how to count cards and beat the house.
---
The Sap Cap isn't just a logo-less baseball cap. It's also a blackjack, one of those weighted leather weapons private eyes used to get socked with all the time back in the 1940s.
---
The Samsung Epix—the BlackJack III in another dimension where BlackBerry doesn't exist and the acronym BJ doesn't make people snicker—actually seems like a solid successor to the BlackJack II (AU, which has only just launched locally, BTW), adding the major things it needs to not get laughed at by every other smartphone today, "world's first optical mouse in a smartphone" gimmick aside: namely, a touchscreen and Wi-Fi. The optical mouse is basically like if you flipped the one on your desk over and tried to move it with your hand—you swipe your finger over it and click where you want. It's available now for $US199 with the usual two-year blood contract.
---
It's been just over 12 months since we first saw the Blackjack 2 appear on Giz AU, and now we're finally getting a version released locally. Available on Telstra, the Samsung i617T has push email, qwerty keypad, A-GPS, 2MP snapper, 4GB Expandable memory and multimedia recording and playback (both MP3s and videos.)
It also runs Windows Mobile 6.1, which for some people make it extremely attractive. For others it means a quick trip running to the hills, screaming like children that the Windows Mobile OS monster has claimed another victim.
If you're in the former category, the phone is $0 upfront on a $30 plan or $589 outright. If you're in the latter, you're probably feeling smug in the comforting glow of your iPhone right about now, so we'll leave you alone.
---
The BlackJack II (SGH-i617) finally gets its turn to ride the Windows Mobile 6.1 bus, which brings to it slight UI changes, better SMS threading, improved GPS navigation and internet connection sharing. There's little reason why you shouldn't get it, so download it now and join the 6.1 club. [Samsung]
---
It's all still rumour for the time being, but word has it that the Samsung BlackJack III (formerly the Samsung i788) will be arriving this October. While slightly thicker than the BlackJack II, it will also run Windows Mobile 6.1 Pro and feature a 320×320 touchscreen, 528MHz processor, 3MP camera, A-GPS, Wi-Fi and HSDPA (AT&T's 3G tech). Sounds good, though we're not so sure about this new trend of ever so slightly thicker smartphones. [WMExperts via BGR and PhoneArena]
---
Everyone knows that the casino with the most flash often gets the most business. So, if you are looking to take a few dollars out of your friends' paychecks on Saturday night, lure them over with the X10 Ten Player Automated Poker Table. It features 10 12.1-inch touchscreens for the players and a 27-inch LCD in the centre of the table that handles community cards and chip amounts for the entire table.
---
Loading page