Briefly: A few months ago, we told you about BitTorrent Bleep, the plan to create super secure chat that uses the P2P BitTorrent protocol to avoid the third-party servers that can be used to spy on you. Today, it's been opened to a public Alpha testing stage so everyone can try it. Additionally, it's now available for both Mac and Android instead of just Windows.
---
---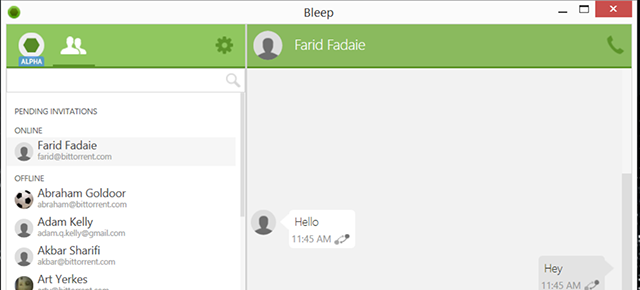 Last October, BitTorrent (the company) announced an experimental plan to build a secure chat system using the protocol that's most famous for enabling file sharing. Today, we're getting our first look at the what will eventually become a finished product: BitTorrent Bleep.
---
If you've ever downloaded something via BitTorrent, odds are you've used (or seen) an app called Vuze. It's one of the internet's most prolific BitTorrent clients, and it's used for downloading countless terabytes of copyright-protected material every day. The developers of Vuze have hit back at the online piracy epidemic, condemning copyright theft and promoting legal torrents.
---
You remember Popcorn Time, the Netflix for torrents that suffered a self-inflicted death? Well, it never really died. The open source project lives on in the form of a forked app version, available for download for Mac, Windows and Linux. Today, it comes to Android.
---
BitTorrent Sync is basically explicitly designed for people who need to move huge amounts of data back and forth between different devices. Now the service is getting support for the network attached storage these types are likely to use.
---