Although you should probably just keep a set of jump leads and a spare $20 in your car, it turns out there's a non-conventional way to revive a dead battery, using a dozen AAs, a little soldering, and some firmly-crossed fingers.
---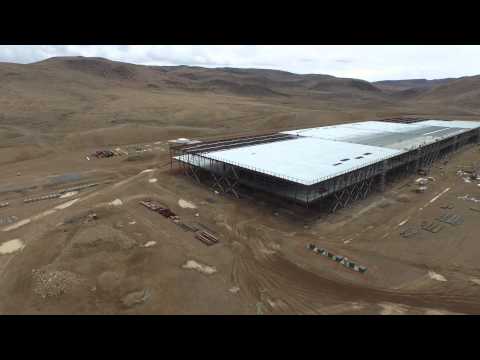 Video: Just like the massive Apple Campus 2, Tesla Motors' US$1bn battery-building Gigafactory is under construction — out in the Fallout wastes Nevada desert, rather than in the heart of Silicon Valley — and the building process looks like it's well under way. A drone enthusiast took the opportunity to take a look at the nascent plant, and filmed the entire thing in 4K.
---
The biggest concern about driving a Tesla on a giant, barren island at the bottom of the world is wondering where you're going to charge it. Tesla is hard at work rolling out Superchargers in Australia, but now there are a host of chargers at places you're already driving to thanks to something called Destination Charging.
---
To make it easier to manage the mountain of tools you'll usually find on a construction site, and to help deter theft, Dewalt is introducing a new line of Bluetooth rechargeable batteries that can be connected to a smartphone app for checking their charge status — or remotely disabling them.
---
Believe it or not, that modern-looking tin can in the sky you're flying — with its touchscreen TVs at every seat — most likely took flight for the first time decades ago. All of those fancy electronics are upgrades sucking on outdated power systems. That's why these trolley carts were created to deliver a different kind of juice.
---
Here are a few things you can do to make your lithium-ion (Li-ion) batteries last longer, whether they be used in an electric car, a large home installation – such as Tesla's newly announced Powerwall – or in your portable device, such as a smartphone or laptop.
---
The recent announcement by Tesla of Powerwall, its new lithium-ion (Li-ion) based residential battery storage system, has caused quite a stir. It even raises the possibility of going off-the-grid, relying upon solar panels to generate electricity, and storing it with their own battery and using it on demand.
Yet the lithium-ion technology used by Tesla isn't the only one on offer.
---